Innovations & Thérapeutiques en Oncologie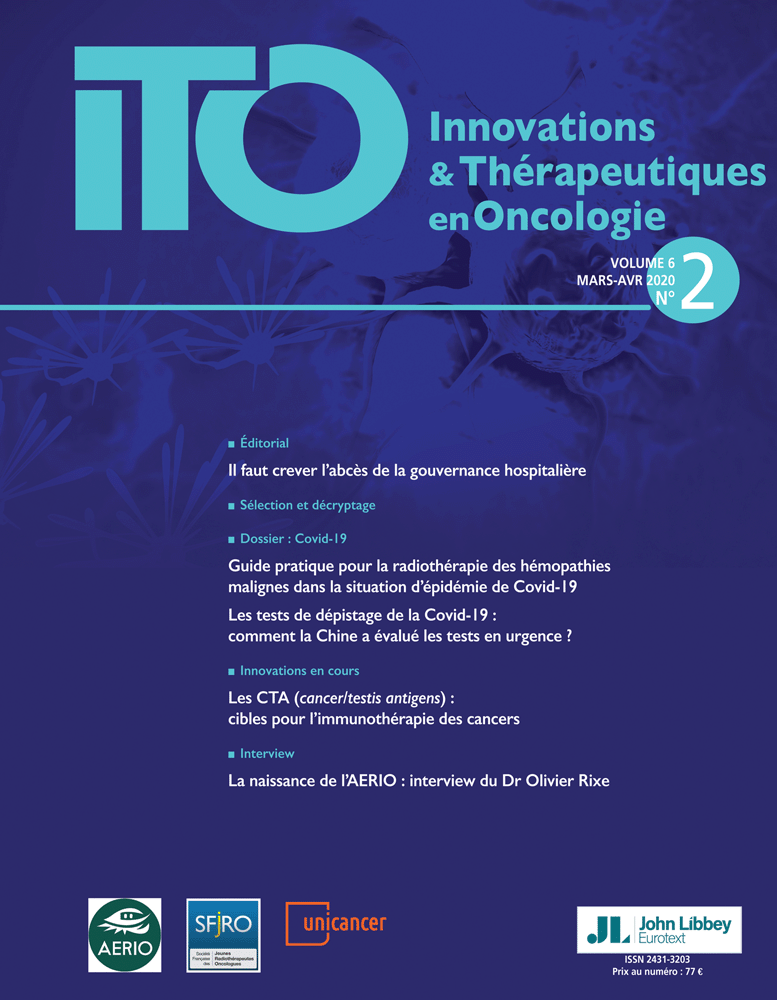 Oncology is undoubtedly one of the most innovating medical disciplines: in a few years it has taken on targeting of specific molecular abnormalities in cancer cells and their environment (angiogenesis and immunity), technological development of ionising radiation, design of new organisation of care for patients and of their care pathway, introduction of new funding methods for research and innovation, and many other things.
In order to make all of these avenues which have been developed available, Innovations & Thérapeutiques en Oncologie has set itself two main missions, which are:
To bring knowledge about the largest number of innovations in oncology, trying as accurately as possible to define their benefits, but also their restrictions and limitations.

To echo the everyday impact of both these innovations and also any new methods in clinical practice, new ways of using them and new areas of interest from specific clinical situations.
With its eyes set resolutely on the future, the six annual editions of this Journal will quickly find their home with all French speaking oncologists.
The Innovations & Thérapeutiques en Oncologie review has an editing committee comprised of successful professionals who are expert in their respective sectors. It can therefore offer you excellent content which will contribute to the development of the future of oncology.
MENU
Order an issue
2020 - 2019 - 2018 - 2017 - 2016 - 2015
2020

Volume 6, issue 2, March-April 2020
Numéro papier
All countries
77.00 €
Volume 6, issue 1, January-February 2020
Numéro papier
All countries
77.00 €

2019

Volume 5, issue 6, November-December 2019
Numéro papier
All countries
77.00 €
Volume 5, issue 5, September-October 2019
Numéro papier
All countries
77.00 €
Volume 5, issue 4, July-August 2019
Numéro papier
All countries
77.00 €
Volume 5, issue 3, May-June 2019
Numéro papier
All countries
77.00 €
Volume 5, issue 2, March-April 2019
Numéro papier
All countries
77.00 €
Volume 5, issue 1, January-February 2019
Numéro papier
All countries
77.00 €

2018

Volume 4, issue 5-6, September-December 2018
Numéro papier
All countries
77.00 €
Volume 4, issue 4, July-August 2018
Numéro papier
All countries
77.00 €
Volume 4, issue 3, Mai-June 2018
Numéro papier
All countries
77.00 €
Volume 4, issue 2, March-April 2018
Numéro papier
All countries
77.00 €
Volume 4, issue 1, January-February 2018
Numéro papier
All countries
77.00 €

2017

Volume 3, issue 5-6, September-December 2017
Numéro papier
All countries
82.00 €
Volume 3, issue 3-4, May-August 2017
Numéro papier
All countries
82.00 €
Volume 3, issue 2, March-April 2017
Numéro papier
All countries
82.00 €
Volume 3, issue 1, January-February 2017
Numéro papier
All countries
82.00 €

2016

Volume 2, issue 6, November-December 2016
Numéro papier
All countries
80.00 €
Volume 2, issue 5, September-October 2016
Numéro papier
All countries
80.00 €
Volume 2, issue 4, July-August 2016
Numéro papier
All countries
80.00 €
Volume 2, issue 3, May-June 2016
Numéro papier
All countries
80.00 €
Volume 2, issue 2, March-April 2016
Numéro papier
All countries
80.00 €
Volume 2, issue 1, January-February 2016
Numéro papier
All countries
80.00 €

2015

Volume 1, issue 2, November-December 2015
Numéro papier
All countries
80.00 €
Volume 1, issue 1, Septembre-Octobre 2015
Numéro papier
All countries
80.00 €