Médecine de la Reproduction
Official journal of the "Society of Reproductive Medicine" (SMR)
Médecine de la Reproduction is concerned with procreation and therefore with the functioning of the reproductive system at all stages of life (including in utero), sexual health, hygiene, as well as with all the processes, functions, systems and mechanisms that facilitate or, on the contrary, inhibit or forbid reproduction, for the couple or the individual.

Médecine de la Reproduction thus offers review articles written by the best clinicians and researchers in the field, addressing all the specialties involved in its field of interest: gametogenesis, endocrinology, physiology and pathologies of the reproductive system, embryology, infertility, biology, genetics, ethics, etc., without forgetting research and teaching.
MENU
Volume 25, issue 2, Avril-Mai-Juin 2023
L'endométriose 2.0
Éditorial
Endometriosis 2.0
Emmanuelle Mathieu d'Argent
Mini-revues
National strategy to combat endometriosis and endometriosis networks in France
François Golfier, Mathieu Poilblanc, Pascal Rousset, Mathilde Charlot, Pierre-Adrien Bolze
Early diagnostic of endometriosis, the potential of Endotest, the salivary miRNA test
Yohann Dabi, Clément Ferrier, Cyril Touboul, Emile Darai, Sofiane Bendifallah
Management of deep endometriosis: in favour of a single, planned, coordinated and concerted surgical procedure
Alexandra Madar, Adrien Crestani, Alba Nicolas-Boluda, Marc Even, Jérôme Bouaziz, Cyril Touboul, Yohann Dabi, Sofiane Bendifallah
Contribution of robotics in endometriosis surgery
Adrien Crestani, Thomas Dennis, Horace Roman, Benjamin Merlot
See full Table of contents >
Archives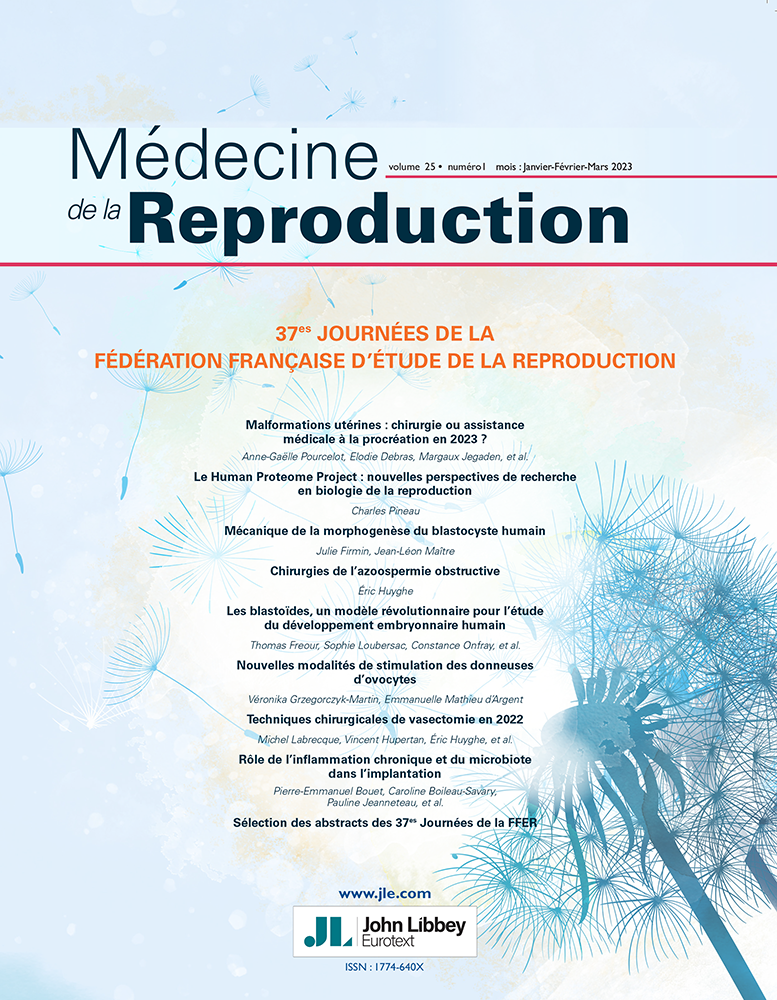 Editorial policy
Here you will find all John Libbey Eurotext (JLE) policies regarding publication in our journals. JLE journals follow the recommendations of the ICMJE (International Committee of Medical Journal Editors). These guidelines are the reference for best practices and ethical standards for the conduct and presentation of research and other information published in medical journals.