Magnesium Research
3.2
Magnesium Research, the official journal of the international Society for the Development of Research on Magnesium (SDRM), has been the benchmark journal on the use of magnesium in biomedicine for more than 30 years.
This quarterly publication provides regular updates on multinational and multidisciplinary research into magnesium, bringing together original experimental and clinical articles, correspondence, Letters to the Editor, comments on latest news, general features, summaries of relevant articles from other journals, and reports and statements from national and international conferences and symposiums.
Indexed in the leading medical databases, Magnesium Research is an essential journal for specialists and general practitioners, for basic and clinical researchers, for practising doctors and academics.
MENU
Volume 36, issue 1, Mars 2023
ORIGINAL ARTICLES
Magnesium suppresses in vivo oxidative stress and ex vivo DNA damage induced by protracted ACTH treatment in rats
Vedrana Đurić, Jelena Petrović, Dušanka Stanić, Ana Ivanović, Jelena Kotur-Stevuljević, Vesna Pešić
Evaluation of standard versus prolonged magnesium infusion rates in hospitalized patients: a retrospective cohort study
Halah Yaldo, Renee Paxton, Christopher Giuliano
LETTER TO THE EDITOR
Magnesium supplementation reduces interleukin-6 levels in metabolic syndrome
Sophia Kisters, Klaus Kisters, Tanja Werner, Timm Westhoff, Hans-Georg Predel, Hannes Reuter
See full Table of contents >
Archives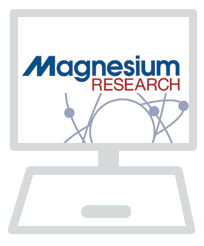 Editorial policy
Here you will find all John Libbey Eurotext (JLE) policies regarding publication in our journals. JLE journals follow the recommendations of the ICMJE (International Committee of Medical Journal Editors). These guidelines are the reference for best practices and ethical standards for the conduct and presentation of research and other information published in medical journals.