Hépato-Gastro & Oncologie Digestive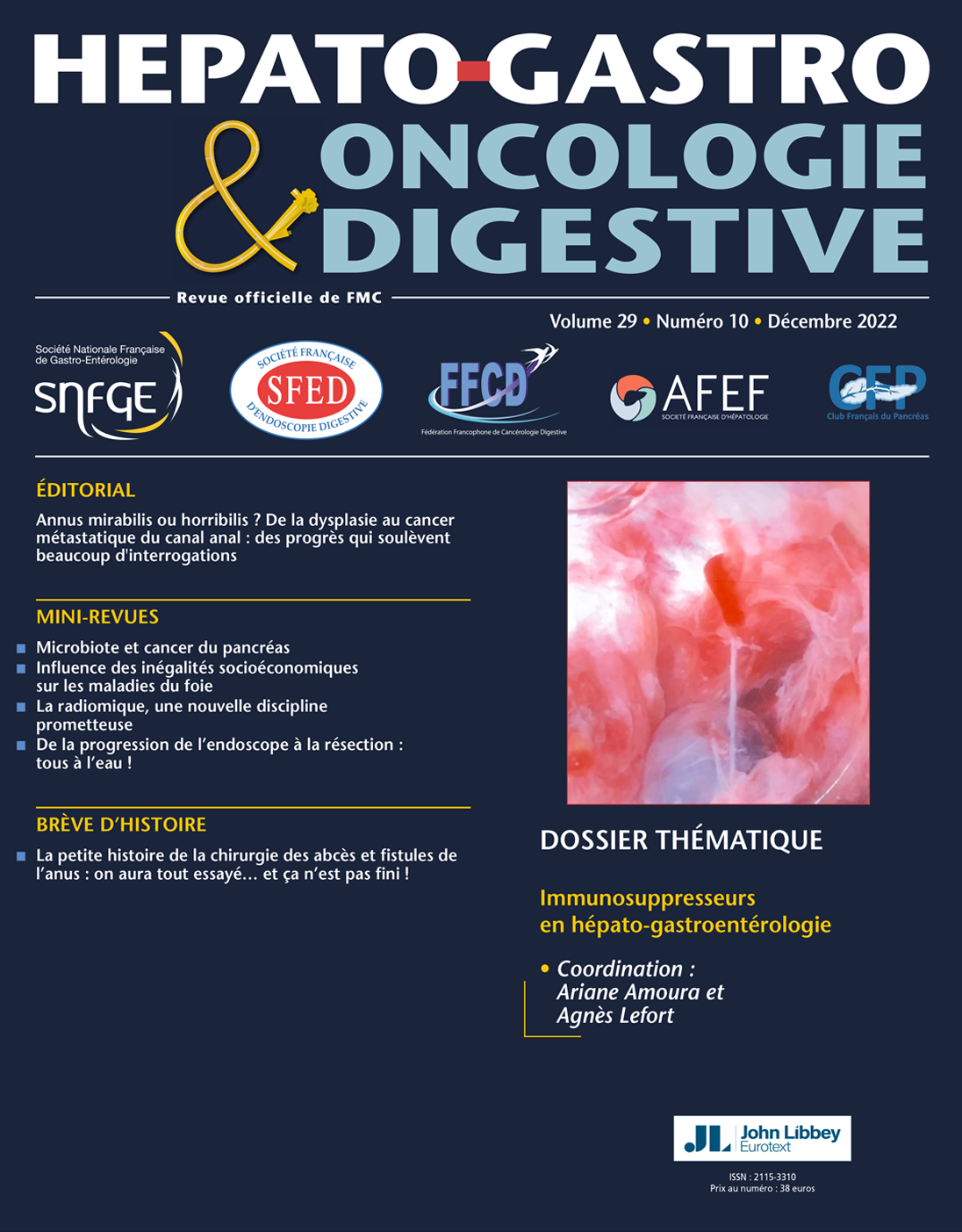 The leading French-language journal in gastroenterology and digestive oncology

Hépato-Gastro & Oncologie Digestive (HGOD) is the official CME journal of the French National Society of Gastroenterology (SNFGE), of the French Society of Digestive Endoscopy (SFED), of the French Association for the Study of Liver Diseases (AFEF), of the Francophone Federation of Digestive Oncology (FFCD) and of the French Pancreas Club (CFP).
Hépato-Gastro & Oncologie Digestive is a genuine training and updating tool in digestive pathology. Its didactic approach includes highly explanatory bibliographical reviews, CME reviews.
This richly illustrated journal is the reference on all aspects of digestive conditions. Each month, its content is based around quality articles. The well-researched mini-reviews provide an overview of current issues. The continuing medical education feature, a journal within the journal, explores a given theme through a literature review, instructive clinical case and self-assessment tests.
MENU
Volume 29, issue 10, December 2022
Special feature: Immunosuppressants in hepato-gastroenterology
ÉDITORIAL

Annus mirabilis or horribilis? From dysplasia to metastatic anal canal cancer: progress that raises many questions
Astrid Lièvre, Laurent Siproudhis
Free Access
MINI-REVUES

Microbiota and pancreatic pancer
Cindy Neuzillet

Influence of socioeconomic disparities on liver diseases
Nga Nguyen, Benjamin Menahem, Thong Dao, Guy Launoy

Radiomics, a promising new discipline : example of hepatocellular carcinoma
Thomas Lévi-Strauss, Bettina Tortorici, Olivier Lopez, Philippe Viau, Dann J. Ouizeman, Baptiste Schall, Xavier Adhoute, Olivier Humbert, Patrick Chevallier, Lionel Fillatre, Rodolphe Anty

From scope progression to resection: let's dive!
Marion Schaefer, Jean-Baptiste Chevaux, Jérémie Jacques
See full Table of contents >
Archives
Editorial policy
Here you will find all John Libbey Eurotext (JLE) policies regarding publication in our journals. JLE journals follow the recommendations of the ICMJE (International Committee of Medical Journal Editors). These guidelines are the reference for best practices and ethical standards for the conduct and presentation of research and other information published in medical journals.
Hépato-Gastro & Oncologie Digestive: THE journal of the GI specialitists
In 2019, the French Digestive Endoscopy Society (SFED) and the French Pancreas Club (CFP) join us!
For readers of Hepato-Gastro & Oncology Digestive it means:
• Even more articles
• A sixth central notebook of FMC
• A renovated model for clearer information and better reading comfort
• And always, independent information of great value