European Cytokine Network
European Cytokine Network is an electronic journal that publishes original articles and abstracts every quarter to provide an essential bridge between researchers and clinicians with an interest in this cutting-edge field.
It has become a must-read for specialists in the field thanks to its swift publication and international circulation.
The journal is referenced in several databases, including Medline, which is testament to its scientific quality.
Volume 26, issue 1, January-February-March 2015
Research article

Extracellular Mg concentration and Ca blockers modulate the initial steps of the response of Th2 lymphocytes in co-culture with macrophages and dendritic cells
Patrycja Libako, Julia Miller, Wojciech Nowacki, Sara Castiglioni, Jeanette A. Maier, Andrzej Mazur

Role of endothelin-1 in the skin fibrosis of systemic sclerosis
J. Jing, T.T. Dou, J.Q. Yang, X.B. Chen, H.L. Cao, M. Min, S.Q. Cai, M. Zheng, X.Y. Man

TNFα mediates stress-induced depression by upregulating indoleamine 2,3-dioxygenase in a mouse model of unpredictable chronic mild stress
Yu-Ning Liu, Yun-Li Peng, Lei -Liu, Teng-Yun Wu, Yi Zhang, Yong-Jie Lian, Yuan-Yuan Yang, Keith W Kelley, Chun-Lei Jiang, Yun-Xia Wang
See full Table of contents >
Archives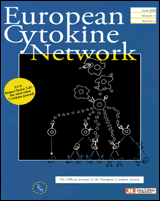 Submit your article to European Cytokine Network!
If you are author and want to be published in European Cytokine Network ,please click here to consult the instructions for authors.