Hématologie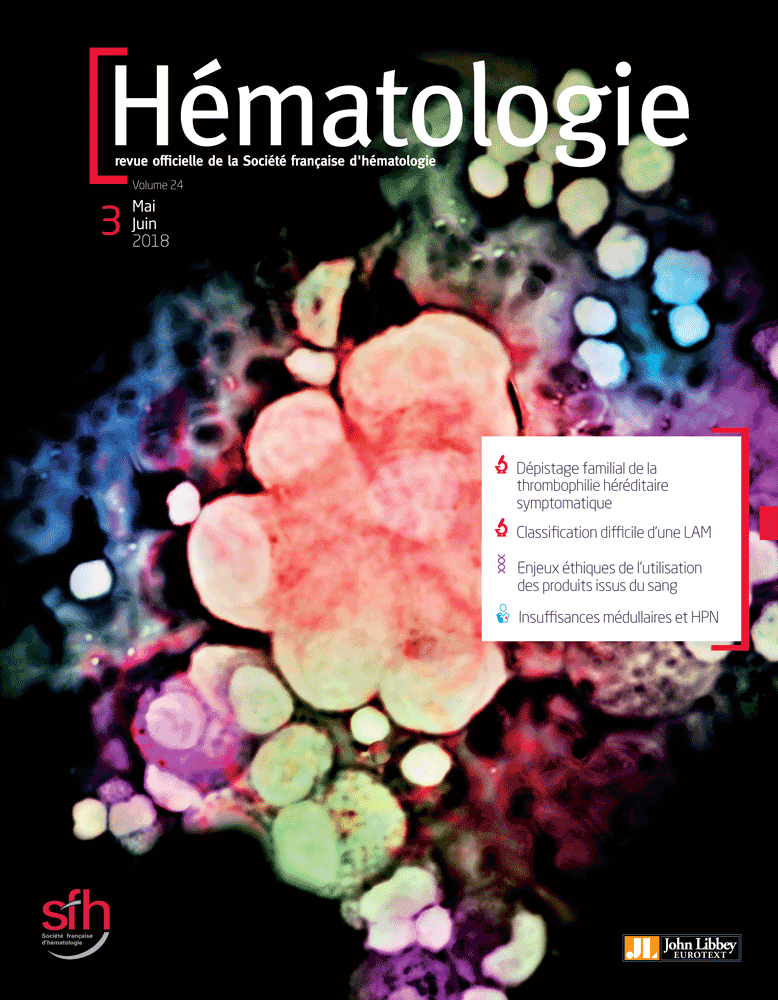 Hématologie, the journal of the French Haematology Society (SFH), provides an invaluable link between all the biomedical disciplines involved in haematology. It has established its position as a major French-language journal aimed at both clinicians and researchers.
Haematology is a rapidly developing area and our journal keeps pace with the changes. With this new format, the Editorial Board wanted to offer readers an even greater focus on clinical matters, a larger board and new sections including "Residents' Corner" and "How do I treat…"
Hématologie presents articles written by top oncology and haematology authors. As well as the six current issues, readers have access to reports from all the big national and international congresses.
MENU
Publication director
Gilles Cahn

Editor in chief
François Sigaux

Assistant editors in chief
Mohamad Mohty
Philippe Rousselot

Editorial board
Christine Bellané-Chantelot
Dominique Bonnet
Éoli Brissot
Christine Chomienne
Sylvain Choquet
Thomas Cluzeau
Adrien Contejean
Catherine Cordonnier
Regis Costello
Herve Dombret
Remi Favier
Pierre Fenaux
Isabelle Gouin-Thibault
Yves Gruel
Raphaël Itzykson
Xavier Leleu
Florent Malard
Albert Najman
Claude Preudhomme
Henri Rochant
Xavier Troussard

Scientific board
Annelise Bennaceur, Yves Beuzard, Jean-Yves Cahn,
Nicole Casadevall, Thierry de Revel, Philippe Gaulard,
Robert Girot, Norbert Ifrah, Veronique Leblond,
Gerard Socie, William Vainchenker, Bruno Varet.