Roadmap for a competency-based educational curriculum in epileptology: report of the Epilepsy Education Task Force of the International League Against Epilepsy Volume 21, issue 2, April 2019
Figures
Tables
Teaching competency in the diagnosis and clinical management of epilepsy is of utmost importance for the ILAE, as the foremost international organization for all professional stakeholders involved in the care of people with epilepsy (PwE). ILAE congresses, regional and national conferences, and symposia, as well as the broad spectrum of topic-oriented teaching and training courses, bear testimony to the ILAE's long track record in epilepsy education. However, the ILAE has not yet developed a common educational curriculum or a competency-based teaching program for healthcare professionals managing PwE. Moving to an "outcome" or "competency-based" approach for the organization of educational materials will allow for a more systematic and strategy approach to developing educational offerings for the ILAE. Furthermore, it will make it possible for ILAE to create formal programs for a variety of learner levels, which can be undertaken in a step-wise, self-paced fashion to achieve educational objectives at various levels. The ILAE Epilepsy Education (EpiEd) Task Force was founded in 2014 to achieve this goal and pave the way towards a web-based, 21st century virtual campus and teaching academy.
Specific objectives and target audience
The ILAE's stated mission is to ensure that healthcare professionals, patients and their care providers, governments, and the public world-wide have the educational and research resources that are essential in understanding, diagnosing, and treating epilepsy. Accordingly, the educational agenda is paramount in the League's activities. Such an agenda is by necessity vast and multifaceted. It is comprised of multiple levels of expertise aimed at different types of professionals in epilepsy and requires a staged approach. One of the ILAE's primary aims is to support all national actions that will ensure PwE access to clinical practitioners with knowledge in epilepsy for optimal diagnosis and care, ideally epilepsy specialists. Acquiring a full set of competencies in the field of epileptology entails a long educational process, targeting adult and child clinical specialists caring for PwE. On the other hand, many PwE live in countries where access to epilepsy specialists is not always possible or may take several months (Wilmshurst et al., 2014). Because seizures are one of the commonest neurological presentations in all clinical settings (WHO, 2017), a common body of knowledge should be made available for all clinical practitioners and hospital-based adult neurology or child neurology units, but also for nurses, allied health professionals, and caregivers working in remote areas. These healthcare professionals are the ones who usually provide care at the time of first presentation with epilepsy, and they are expected to initiate appropriate investigations and treatment.
On the other hand, many epilepsies are difficult to control and clinically complex, or are the expression of rare brain disorders, requiring interdisciplinary approaches and highly skilled clinicians. In these situations, highly trained specialists are expected to guide specialized care in a cost-effective manner. Such specialized care involves, for example: expertise in ordering and interpreting investigations, such as video-EEG (Jayakar et al., 2016; Schomer and Lopes da Silva, 2016; Tatum et al., 2018), neuroimaging, and metabolic and genetic testing; mastering the know-how of complex drug interactions and treatment choices; identifying and managing common comorbidities (Kerr et al., 2011; Mula et al., 2017); providing counselling regarding life-style issues relevant to epilepsy; identifying early candidates for pre-surgical evaluation; and providing surgical and post-surgical care.
After extensive consultation with its constituency and with educational experts, the ILAE decided to systematically address the educational pathways required for the optimum management of PwE. Accordingly, the ILAE will develop a comprehensive portfolio of educational activities. Learning portfolios can be thought of as "a collection of evidence that learning has taken place" (Snadden and Thomas, 1998). Such portfolios address specific competencies, constituting an assessment-based curriculum and certificate in epilepsy. According to the Institute for Credentialing Excellence (Institute for Credentialing Excellence, Defining Features of Quality Certification and Assessment-Based Certificate Programs 2010, http://www.credentialingexcellence.org), an assessment-based certificate program can be defined as a non-degree granting program that:
–

provides instruction and training to aid participants in acquiring specific knowledge, skills, and/or competencies associated with intended learning outcomes;

–

evaluates participants' achievement of the intended learning outcomes;

–

awards a certificate only to those participants who meet the performance, proficiency or passing standard for the assessment(s) (hence the term, "assessment-based certificate program").
The ILAE curriculum development must be guided by strategies based on adult learning principles and reflecting active learning approaches. The process should address the specific educational needs of healthcare professionals in a global environment with different socio-cultural contexts and access to educational activities (Taylor and Hamdy, 2013). Based on the theory of andragogy, defined as the art and science of adult learning, it is necessary to acknowledge the specific features of adult learners in contrast to children or adolescents, for whom the learning principles are defined as pedagogy (Knowles, 1984a). Adult learning activities have to focus on specific aspects of learner self-perception with autonomy in the learning process and the learner's experience of perceived and unperceived gaps, either by self-assessment or discussion with peers. The learning should have practical relevance, and be goal-oriented and outcome-based, and the learner's readiness and motivation for learning should be fostered by actively performing specific tasks (Kolb, 1984).
Curriculum design is a step-wise process, which traditionally begins with the identification of a "problem" or learning gap. This is followed by formal assessment of learner needs (survey, stakeholder interviews, expert input, etc.), the development of learning objectives, choice of educational design, assessment of learning, and then program evaluation (Kern, 1998). It is contemplated that this curriculum will eventually address the epilepsy educational needs of a wide range of professionals dealing with PwE. For example, it would cover the educational competencies required for allied healthcare workers such as nurses, general practitioners, pediatricians, and adult and child neurologists, and would also encompass advanced training and in-depth courses on specific topics for epileptologists.
Development of the ILAE curriculum for epileptology (2016 ILAE EpiEd survey)
As a first step, EpiEd developed a catalogue of competencies, covering the spectrum of skills and knowledge for best medical practice, irrespective of economic, social or cultural background in a given patient (Mula et al., 2017; Carrizosa et al., 2018; Murray et al., 2018). In 2016, EpiEd launched a worldwide online survey addressing their entire constituency to approve the catalogue. In this survey, respondents were asked to rate each proposed competency as: (1) "extremely important"; (2) "important"; (3) "somewhat important"; (4) "slightly important"; (5) "not at all important"; or (6) "I don't know". In addition, opinions were gathered regarding the importance of developing such a curriculum. The survey was answered by 742 people within an eight-week period covering all six ILAE world regions and the broad spectrum of professional backgrounds. The survey revealed that 94.45% of people would support the creation of a curriculum, 92.11% would apply this curriculum in their own practice, and 73.83% would take or recommend taking an ILAE exam on the competencies addressed by the curriculum, leading to an assessment-based certificate in epileptology. The first milestone reached in our long endeavor to build an international teaching academy was that the ILAE community contributed to, and endorsed a list of competencies in epileptology. This catalogue of competencies was our blueprint for developing the common body of knowledge for the education of healthcare professionals in epileptology. All content was designed to cover these competencies and was targeted to an appropriate level of professional background and experience.
The second step was to assign learning objectives to each domain of competencies, to organize them according to levels of proficiency, and to arrange them in a logical order of implementation. We conceptualized three levels of professional expertise in epileptology, i.e. Level 1 or "entry level", Level 2 or "proficiency level", and Level 3 or "advanced proficiency level"; these are described in further detail below. Our didactic methods and the granularity of learning content and educational tools should adapt to these three levels.
With the assistance of educational experts, the EpiEd task force developed a curriculum for the three levels of expertise, encompassing seven domains, 42 competencies, and 124 learning objectives (table 1). The entire ILAE curriculum is presented in appendix 1 as well as on the ILAE's educational website (www.ilae.org).
| | | | |
| --- | --- | --- | --- |
| # | Code | Domain | Specification |
| 1 | 1.0 | Diagnosis | 9 competencies and 40 learning objectives |
| 2 | 2.0 | Counselling | 10 competencies and 22 learning objectives |
| 3 | 3.0 | Pharmacological Treatment | 7 competencies and 18 learning objectives |
| 4 | 4.0 | Epilepsy Surgery | 7 competencies and 7 learning objectives |
| 5 | 5.0 | Emergencies | 3 competencies and 9 learning objectives |
| 6 | 6.0 | Comorbidities | 2 competencies and 8 learning objectives |
| 7 | 7.0 | Biology of Epilepsy | 4 competencies |
The curriculum encompasses seven learning domains, each consisting of specific competencies and learning objectives, as specified below (see appendix 1). Learning domains constitute the framework of the curriculum and contain elements of all teaching levels, i.e. Level 1 (entry), Level 2 (proficiency), and Level 3 (advanced proficiency).
Table 1
Learning domains in epileptology.
Didactic methods and educational tools: a patient-centered approach
Following the process described above, it was concluded that when delivering the ILAE curriculum, it should follow a patient-centered educational approach (Barrows, 1983; Dave Davis and McMahon, 2018), which addresses adult learning styles and needs (Knowles, 1984b; Christianson et al., 2007; Taylor and Hamdy, 2013; Palis and Quiros, 2014). Accordingly, the ILAE will implement a comprehensive, web-based learning environment encompassing all the instructional elements required for successful adult learning, hereby addressing motivation, knowledge gain, improvement in skills, and adaptation of professional behavior. This problem-based approach would start with the issues any physician first encounters when examining a new patient presenting with seizures. Recognition of the most important clinical features would be mandatory at this stage for two reasons. First, because it translates directly into decisions to order the most appropriate diagnostic tests. Secondly, because it leads to immediate decisions about initial treatment, without necessarily waiting for the results of the clinical investigations, which may require additional time and resources.
Furthermore, the evaluation of learning content and workflow actively involves the learner, enhances the learning process, and provides information about efficiency and application (Palis and Quiros, 2014). Considering the various learning styles, flexibility of learning time demanded by adult learners, and a global approach to address multilingualism, implementation of the curriculum within a virtual learning environment is required. Such an eLearning platform allows the application of the aforementioned adult learning principles and activities, such as web-based-training (WBT) in combination with other didactic formats in a blended learning concept combining asynchronous and synchronous, virtual and onsite, and formal and informal activities. According to the different competency levels and the self-directed approach, the virtual learning and confidence assessment concept will incorporate a guided learning path that is not restricted to a predetermined learning program, but also allows for individual interests and needs (Dave Davis and McMahon, 2018).
Level 1 (entry level)
This level is intended for clinicians trained in adult and child neurology, internists, pediatricians, and psychiatrists who manage PwE, but may also be of interest to other professionals involved in providing care to PwE. This level covers the basic principles in clinical epileptology which are needed to manage the most common forms of seizures and types of epilepsy, and to provide first-line drug treatment. A web-based program with variable levels of tutor support will offer a catalogue of cases with disease-specific clinical histories and seizure presentations. Unlimited access and linkage to the "eLearning library" will allow a participant to read relevant (pre-selected) primary literature (e.g.Kwan and Brodie, 2000; Wiebe et al., 2001; Blümcke et al., 2017), definition and classification schemes (e.g.Kwan et al., 2010; Blümcke et al., 2011; Kerr et al., 2011; Blümcke et al., 2013; LaFrance et al., 2013; Trinka et al., 2015; Wilson et al., 2015; Glauser et al., 2016; Fisher et al., 2014, 2017; Scheffer et al., 2017), educational review papers or textbook chapters (e.g. Engel and Pedley, 2008; Blümcke et al., 2015; Wyllie, 2015; Arzimanoglou et al., 2016; Schomer and Lopes da Silva, 2016), the epilepsy diagnostic manual at www.epilepsydiagnosis.org, and to listen to topic-related webinars or review self-instructing databases of primary diagnostic investigations. The foremost challenge for the participant in Level 1 will be to draw clinically meaningful and reliable conclusions from the cases presented, leading to initial management decisions. The module will also address common errors in clinical decision-making, a mandatory asset of our eLearning program (Gibson, 2008; Kanner, 2008; Schmidt, 2018). In a second learning phase at this level, the participant can request diagnostic investigations considering cost-effectiveness and the learner's socio-economic setting (Carrizosa et al., 2018). The results of the investigations requested will be presented as an expert report, i.e. the participants are not required to perform the investigation, analyze primary data, or prepare a report of the investigation. The results report will inform the learners and help them refine their first diagnostic hypotheses and management decision. The system will evaluate all clinical decisions and management pathways and offer the participants the opportunity to reconsider decision points in order to adapt their professional behavior. This is of particular importance in order to avoid incorrect clinical decisions resulting in suboptimal patient management, e.g. poor choice of first-line treatment, not recognizing adverse treatment effects, unnecessary invasive investigation, or unacceptable delays in referring the patient for a pre-surgical evaluation. In a third phase, the participant will be provided with follow-up information resulting from their treatment regimen. For example, if a patient did not respond to a correctly chosen and appropriately administered first-line treatment, a choice of second-line treatments will be presented as well as avenues to counsel the patient for referral to advanced diagnostic work-up (see Level 2).
A multiple-choice exam will be offered at the conclusion of Level 1. Herein, the learner has to correctly address a random selection of cases not presented during the teaching course. Any new learners who deem themselves sufficiently experienced and knowledgeable of the learning objectives addressed in the entry level can use the self-assessment tool and proceed directly to take the exam. Passing the exam will allow them to advance to Level 2. Notwithstanding, participation in ILAE-endorsed workshops and symposia is encouraged as an aid to successfully accomplish this level. Successful accomplishment of the first level should empower a participant to understand how and when to diagnose various types of seizures and epilepsy, with their many facets related to clinical presentation, etiology, and management strategy.
Level 2 (proficiency level)
This next level of patient care covers a broader and deeper spectrum of knowledge and skills in epileptology. The complexity of the very different forms of epilepsy, the diversity of underlying etiologies, and the large number of available investigations that have to be prioritized and selected on the basis of electroclinical indications and cost-effectiveness require specific training beyond that of general neurology or child neurology expertise. Proficiency in video-EEG and MRI interpretation are considered absolute prerequisites for those neurologists and child neurologists practicing clinical epileptology. Similarly, the complexity of available therapeutic strategies and their immediate and long-term consequences require motivation, knowledge, and adaptation of professional behavior to ensure best clinical practice.
The ILAE thus proposes a global patient-centered approach incorporating knowledge and skills to build a comprehensive hypothesis on the pathophysiological and anatomical basis of a given form of epilepsy, to choose appropriate first and second-line AEDs, and to recognize at an early stage the indications for pre-surgical evaluation. This includes the capacity to inform and counsel the patient and the family on prognosis, risk of SUDEP, vocational orientation, sports, and family life. It will also cover skills and knowledge to deal with special patient groups, embracing women of child bearing age or the elderly with associated co-morbidities.
Participants qualified for the second level must have successfully accomplished Level 1 or must show evidence for equivalent knowledge (i.e. passed the corresponding exam). The common body of knowledge in general epileptology will be presented to the learner and taught with a comprehensive portfolio of case-oriented eLearning modules covering major epileptic conditions, syndromes, but also rare disorders. The eLearning platform will be blended with tutor-guided, web-based teaching courses, advanced face-to-face workshops (see below), or special teaching courses offered at international congresses. The "virtual library" already introduced for Level 1 will encompass a large body of primary literature, standard textbook chapters, and databases for the analysis and interpretation of primary diagnostic investigations, such as EEG and MRI.
We contemplate developing standardized ILAE examinations in order to assess knowledge of independent components or modules at each level of the curriculum, i.e. Level 1 and 2. The examination and certification offered by the ILAE educational program are still under consideration. There are many elements that require careful assessment, including, for example, the minimum requirements for each level, the format of the exam (online, face to face, or both), the requirement for additional clinical training in the case of more advanced modules, and the type of certificate granted. These aspects remain to be determined.
Level 3 (advanced proficiency level)
ILAE's EpiEd Task Force envisioned also a level of advanced proficiency for epileptologists interested in more advanced or specialized training, e.g. epilepsy in neonates; planning of intracranial electrode implantation; interpretation of invasive EEG recordings; post-processing in EEG, MEG and MRI; analysis of genetic investigations; design and management of clinical drug trials; organizing epilepsy surgery centers or epilepsy research programs. These skills will require demonstrated knowledge of Level 2 material, and completion of Level 3 modules typically will require practical clinical training in specialized epilepsy centers.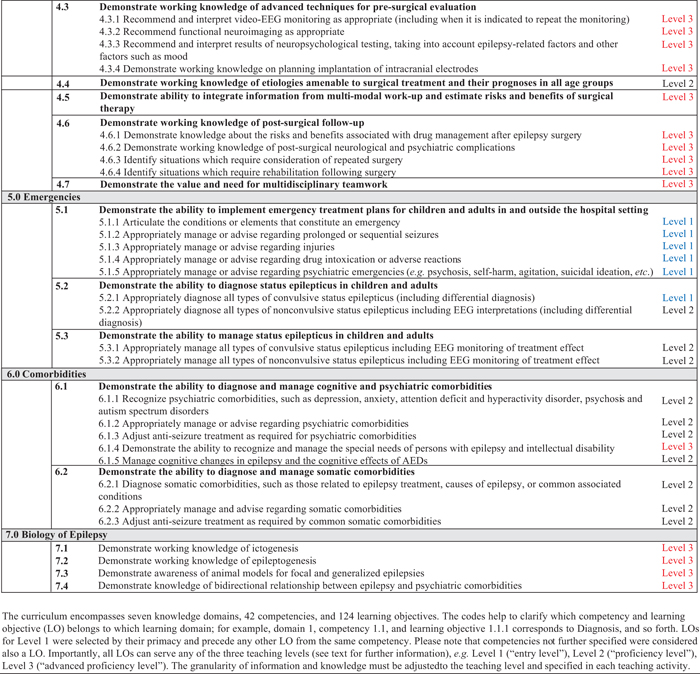 Proposal for the endorsement of educational activities and recommendations for an outcome-based eLearning approach
The spectrum of educational activities addressing the various knowledge domains and skills in epileptology is broad. In past decades, many face-to-face workshops, summer schools or web-based teaching programs have been launched to cover many of these aspects. Through an international survey, EpiEd compiled a catalogue of currently available teaching activities endorsed by the ILAE and advertised through the ILAE website (see appendix 2). This survey showed that currently available activities do not cover the entire breadth of the curriculum. In addition, the target audience is not always specified according to the different teaching levels, i.e. entry level, proficiency or advanced proficiency levels. It is envisaged, therefore, that the goal will be to harmonize ILAE's future portfolio of web-based courses and face-to-face teaching with the ILAE curriculum, and that, increasingly, courses will clearly specify the learning objectives to be addressed therein. Similarly, standard educational methods should be increasingly adopted by ILAE-endorsed courses; these include student engagement using any of the many adult learning methods, such as "think, pair, share", "make a vote", "flipped classroom" and/or "breaking out into smaller groups for a project". Case or project presentations by the students are also highly recommended as a successful engagement method.
Systematic implementation of post-course evaluation of achievements will be another educational milestone to be introduced into ILAE-endorsed teaching activities incrementally. Various national and international guidelines are already available and provide standards for the development and implementation of learning activities for healthcare professionals in continuing professional development (CDP) to guarantee high-quality approaches (Taylor and Hamdy, 2013). Our previous activities for the planning process can be described as a "learning planning cycle" which includes five steps:
–

defining the learning objectives;

–

assessing and validating the learning gaps;

–

defining the learning outcomes;

–

defining the educational format, content, and outcome measures;

–

and evaluating the achieved outcomes.
The results of the evaluation phase will help define the planning of further educational activities (Moore et al., 2009).
ILAE's Task Force for Epilepsy Education will continue to work and to reiterate this "learning cycle" in order to offer all our constituency, in all parts of the world, a comprehensive portfolio of the 21st century, state-of-the-art and competency-based teaching program.
Disclosures
None of the authors have any conflict of interest to declare.
Disclaimer: The ILAE's assessment-based certificate teaching program is not intended to compete with or replace any medical board accreditation processes established in any country for the professional healthcare management of PwE.
Annexe A Supplementary appendix.