Eurocancer 2013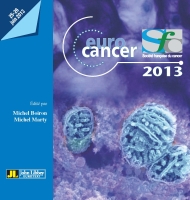 2013
Collection : Eurocancer
Publishor : JOHN LIBBEY EUROTEXT
350 pages
Published in : French
Speciality : Oncology - Cancer
Format : 15 x 15 cm
Eurocancer 2013 is on CD-ROM format.

For the past 26 years, Eurocancer has provided a showcase for the latest scientific advances, technical progress and diagnostic-prognostic-therapeutic innovations in the cancer sector, giving practitioners access to useful and validated information.

While much of this latest edition is dedicated to fundamental aspects and research transfers, it also covers tumour heterogeneity which looks set to be a major focus in the coming years.

Ces ouvrages devraient également vous intéresser