ARTICLE
ejd.2011.1565
Auteur(s) : Wen-hui Wang, Lin-feng Li zoonli@sina.com, Er-shun Huang, Qian Zhang, Ting-ting Sun, Qing-hua Song, Min-li Xu, Xue-rong Chen
Department of Dermatology, Peking University Third Hospital, 49 North Garden Road, Haidian District, Beijing 100191, China
Reprints: L. Li
Amyloidosis signifies the abnormal extracellular tissue deposition of one of a family of biochemically unrelated proteins that share certain characteristic staining properties. Amyloid deposition may occur throughout many organs of the body (systemic amyloidosis) or may be restricted to a single tissue site (organ-limited or localized amyloidosis). The skin-limited type is primary localized cutaneous amyloidosis (PLCA), which is often divided into macular and lichenoid subtypes. Because the two subtypes often coexist in an affected individual (biphasic amyloidosis), including in those with familial PLCA, they are regarded as variants of a single pathologic process [1]. Characteristically, lichenoid amyloidosis presents as a persistent pruritic eruption of grouped hyperkeratotic papules with a predilection for the shins, calves, ankles and dorsa of feet and thighs. It is more common among the Chinese, especially in Taiwan [2]. The importance of genetic factors in the development of PLCA is emphasized, showing that an autosomal dominant family history may be present in up to 10% cases. To date, 9 missense mutations of the OSMR gene [3-8] and 1 missense mutation of the IL31RA gene [5] have been reported in PLCA. Here we report a new missense mutation of the OSMR gene and investigate oncostatin M receptor β subunit (OSMRβ) expression in a lichenoid PLCA family from north China.
Patients
The family was of the Han race, with four patients and ten unaffected individuals through 3 generations (Pedigree in figure 1). The proband was a 28-year female. She was normal at birth, following a normal pregnancy and delivery. Subsequently, lichenoid lesions developed over the lower legs by the age of about 10 years and slowly progressed. The main symptom was pruritus. Physical examination showed closely set, discrete red-brown, flat-top papules up to 3 mm on the lower legs, with some fine scales (figure 2). No clinical signs of visceral amyloid depositions were found. Atopic history was negative. Her grandfather, father and one aunt were also similarly affected, with onset in the second decade and prominent itchy lesions on the shins.
Methods
A skin biopsy sample was taken from the lesion of the proband to observe histopathological changes by hematoxylin and eosin staining. Amyloid was analyzed by viewing Congo red-stained sections under polarized light. Genomic DNA isolated from peripheral blood samples of the proband and 100 unrelated, ethnically matched, healthy controls were used to do polymerase-chain-reaction (PCR) amplification. Fifteen pairs of primers were used to amplify all encoding exons and their flanking sequences of OSMR gene (primer sequences were kindly provided by Prof. John A. McGrath). The PCR products were subjected to gel electrophoresis purification and direct sequencing using an ABI Prism 377 sequencer (Applied Biosystems, Foster City, CA, USA). Immunohistochemical staining was performed according to standard protocols, the primary antibodies used were mouse monoclonal antibodies to OSMRβ (1:600; bs-5096R, Beijing Boisynthesis Biotechnology Co. LTD). Normal leg skin from an unrelated person of a similar age was used as a control. All the samples were taken with written informed consent and the local ethics committee approved the study.
Results
Histopathological examination of the lesion of the proband showed amorphous eosinophilic material in the papillary dermis (figure 3), Congo red staining displayed characteristic birefringence under polarized light (figure 4), supporting the diagnosis of PLCA.
Direct sequencing of the OSMR gene from the proband found a heterozygous missense mutation c. 1845A→T in exon 13, which results in codon substitution of AAA→AAT, causing p.Lys615Asn substitution (figure 5). The mutation was not found in screening of 100 ethnically-matched healthy controls and the particular mutated amino acid was well conserved in throughout various evolutionary lineages (table 1). A known single nucleotide polymorphism (rs2278329§, c.1657G→A in exon 12, which results in p.Asp553Asn substitution) was also detected.
Table 1 Protein homology to human OSMR-β.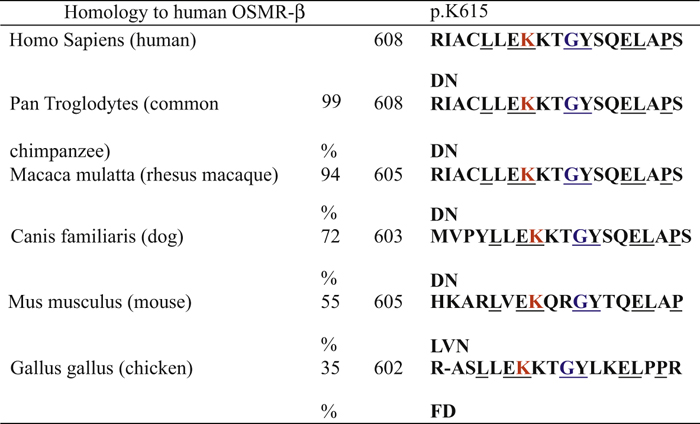 The numbers at the start of the depicted sequences indicate the amino acid numbers. Underlined amino acids are conserved in all species shown here; p.K615 is highlighted in red; the previously reported mutation [3] location p.G618 is in blue.
The expression of OSMRβ in normal control skin and the proband's lesion is shown in figure 6. Normally OSMRβ is expressed in epidermal keratinocytes, without nuclear localization. The distribution was not changed in the proband's lesion, but the staining was slightly enhanced as compared with normal control skin.
Discussion
This study has identified a new heterozygous OSMR missense mutation in PLCA. Although PLCA is relatively common in China, this is the first OSMR mutation to be reported in China mainland. The mutation, p.Lys615Asn, is the most proximal mutation described in the gene to date. It is located within the second fibronectin III -like domain (FNIII domain) and in close vicinity to a previously reported mutation, p.Gly618Ala [3] (figure 4). All other OSMR mutations reported are located within the first FNIII domain adjacent to the transmembranous domain [3-8]. The FNIII domain plays important roles in receptor dimerization, a key event in IL-6 type cytokine signaling through Jak/STAT, MAPK, and PI3K/Akt pathways, and the pathways have been reported to have anti-apoptotic effects in several tumor cell lines [3, 9-11]. These functionally support a causal role of OSMR gene mutation in PLCA.
OSMR encodes the oncostatin M receptor β subunit (OSMRβ), which is a component of two cytokine receptors, the oncostatin M (OSM) type II receptor and the IL-31 receptor (IL-31R). The former represents a heterodimer of OSMRβ and a gp130 signalling receptor subunit and the latter constitutes OSMRβ and an IL-31 receptor A subunit [6]. Recently, an IL31RA mutation was also identified in a PLCA family (table 2), thus the pathophysiology of PLCA might be more dependent on aberrant signalling via IL-31R rather than via the OSM type II receptor [3]. Cultured PLCA keratinocytes with an OSMR p.Gly618Ala mutation showed 65%∼90% reduced activation of Jak/STAT, MAPK, and PI3K/Akt pathways after oncostatin M stimulation, and 100% reduction after IL-31 stimulation [3]. IL-31 is a recently discovered cytokine, which implicates an important role in skin itching [12]. In mice, overexpression of IL-31 in lymphocyte-induced scratching and dermatitis [13] and anti-IL-31 antibodies can reduce pruritus in mice models of atopic dermatitis [14]; IL-31 was also significantly overexpressed in skin samples from patients with atopic dermatitis and nodular prurigo but not with psoriasis, a less itchy disease [15].
Table 2 Review of gene mutations in primary localized cutaneous amyloidosis.
| Gene | Location | Patient sources | References |
| --- | --- | --- | --- |
| OSMR | p.Lys615Asn | 1 family from north China | Present study |
| OSMR | p.Gly618Ala | 2 families from UK, 1 family from South Africa | [3, 4] |
| OSMR | p.Val631Leu | 1 family from the Netherlands | [4] |
| OSMR | p.Asp647Tyr | 1 family from the Netherlands | [4] |
| OSMR | p.Asp647Val | 1 family from Taiwan | [5] |
| OSMR | p.Ile691Thr | 1 family from Brazil | [3] |
| OSMR | p.Pro694Leu | 1 family from Chile, 6 families and 2 sporadics from Taiwan | [5, 6] |
| OSMR | p.Lys697Thr | 3 families from Taiwan | [5] |
| OSMR | p.Ty710Cys | 1 family from Germany | [7] |
| OSMR | p.Gly723Val | 1 family from Japan | [8] |
| IL31RA | p.Ser521Phe | 1 family from Taiwan | [5] |
The expression of OSMRβ in PLCA has not been investigated. Our study showed slightly enhanced OSMRβ expression in a PLCA case. High enhancement of OSMRβ expression has been found in lesions from psoriatic and chronic atopic dermatitic skin [16], type II OSMR expression might be up-regulated under conditions of epidermal hyperplasia [16]. The less significant enhancement of OSMRβ expression in the PLCA case might be related to the OSMR gene mutation. OSMRβ expression in larger samples of PLCA, including with or without OSMR gene mutation, should be investigated further.
Apart from in the skin, both OSMRβ and IL-31RA have widespread tissue distribution, including activated monocytes, testes, thymus, trachea, intestinal epithelial cells and dorsal root ganglia [4]. However, PLCA is a purely cutaneous disease with no association of systemic involvements. A possible explanation is that keratinocytes do not express the leukemia inhibitory factor receptor which constitutes the OSM type I receptor, another IL-6 type cytokine receptor, which may do compensatory work [3, 8, 16]. In addition, not all autosomal dominant PLCA pedigrees mapped to the locus 5p13.1-q11.2 (OSMR and IL-31RA related) [5, 17], other undisclosed genes might also be involved, further studies should improve understanding of PLCA.
Disclosure
Acknowledgments: We are grateful to Prof. John A. McGrath (UK) for help and advice, as well as to Dr. Shao-min Yang (Department of Pathology, Peking University Health Science Center), for her generous technical assistance. Financial support: This work is funded partly by grants from National Natural Science Foundation of China (project No: 30700721, Wen-hui Wang) and a grant from the Basic Research Related to the Prevention and Treatment of Dermatologic Diseases project (JMU-2010-0059). Conflicts of interest: None of the authors has any conflict of interest to disclose.
References
1. Freedberg IM, Eisen AZ, Wolff K, et al. Fitzpatrick's Dermatology in General Medicine. New York, Chicago, San Francisco, Lisbon, London, Madrid, Mexico City, Milan, New Delhi, San Juan, Seoul, Singapore, Sydney, Toronto:McGRAW-HILL Medical Publishing Division, 2003: 1428-35.
2. Wong C.K. Lichen amyloidosus A relatively common skin disorder in Taiwan. Arch Dermatol 1974 ; 110 : 438-440.
3. Arita K, South AP, Hans-Filho G, et al. Oncostatin M receptor-beta mutations underlie familial primary localized cutaneous amyloidosis. Am J Hum Genet 2008 ; 82 : 73-80.
4. Tanaka A, Lai-Cheong JE, van den Akker PC, et al. The molecular skin pathology of familial primary localized cutaneous amyloidosis. Exp Dermatol 2010 ; 19 : 416-423.
5. Lin MW, Lee DD, Liu TT, et al. Novel IL31RA gene mutation and ancestral OSMR mutant allele in familial primary cutaneous amyloidosis. Eur J Hum Genet 2010 ; 18 : 26-32.
6. Tanaka A, Arita K, Lai-Cheong JE, et al. New insight into mechanisms of pruritus from molecular studies on familial primary localized cutaneous amyloidosis. Br J Dermatol 2009 ; 161 : 1217-1224.
7. Babilas P, Fiebig BS, Aslanidis C, et al. Identification of an oncostatin M receptor mutation associated with familial primary cutaneous amyloidosis. Br J Dermatol 2009 ; 161 : 944-947.
8. Arita K, Abe R, Baba K, et al. A novel OSMR mutation in familial primary localized cutaneous amyloidosis in a Japanese family. J Dermatol Sci 2009 ; 55 : 64-65.
9. Kurth I, Horsten U, Pflanz S, et al. Importance of the membrane-proximal extracellular domains for activation of the signal transducer glycoprotein 130. J Immunol 2000 ; 164 : 273-282.
10. Timmermann A, Küster A, Kurth I, et al. A functional role of the membrane-proximal extracellular domains of the signal transducer gp130 in heterodimerization with the leukemia inhibitory factor receptor. Eur J Biochem 2002 ; 269 : 2716-2726.
11. Heinrich PC, Behrmann I, Haan S, et al. Principles of interleukin (IL)-6-type cytokine signalling and its regulation. Biochem J 2003 ; 374 : 1-20.
12. Zhang Q, Putheti P, Zhou Q, et al. Structure and biological functions of IL-31 and IL-31 receptors. Cytokine Growth Factor Rev 2008 ; 19 : 347-356.
13. Dillon SR, Sprecher C, Hammond A, et al. Interleukin 31, a cytokine produced by activated T cells, induces dermatitis in mice. Nat Immunol 2004 ; 5 : 752-760.
14. Grimstad O, Sawanobori Y, Vestergaard C, et al. Anti-interleukin-31-antibodies ameliorate scratching behaviour in NC/Nga mice: a model of atopic dermatitis. Exp Dermatol 2009 ; 18 : 35-43.
15. Sonkoly E, Muller A, Lauerma AI, et al. IL-31: a new link between T cells and pruritus in atopic skin inflammation. J Allergy Clin Immunol 2006 ; 117 : 411-417.
16. Boniface K, Diveu C, Morel F, et al. Oncostatin M secreted by skin infiltrating T lymphocytes is a potent keratinocyte activator involved in skin inflammation. J Immunol 2007 ; 178 : 4615-4622.
17. Wang YW, Zhao N, Guan C, et al. The genetic study of family primary cutaneous amyloidosis. Chin J Derm Venereol 2009 ; 23 : 632-634.