Differential roles of tumor necrosis factor-a and interferon-g in mouse hypermetabolic and anorectic responses induced by LPS.
European Cytokine Network. Volume 11, Numéro 4, 662-8, December 2000, Articles originaux
Summary

Auteur(s) : D. Arsenijevic, I. Garcia, C. Vesin, D. Vesin, Y. Arsenijevic, J. Seydoux, L. Girardier, B. Ryffel, A. Dulloo, D. Richard, Department of Pathology, CMU, 1, rue Michel-Servet, CH 1211 Geneva 4.
Illustrations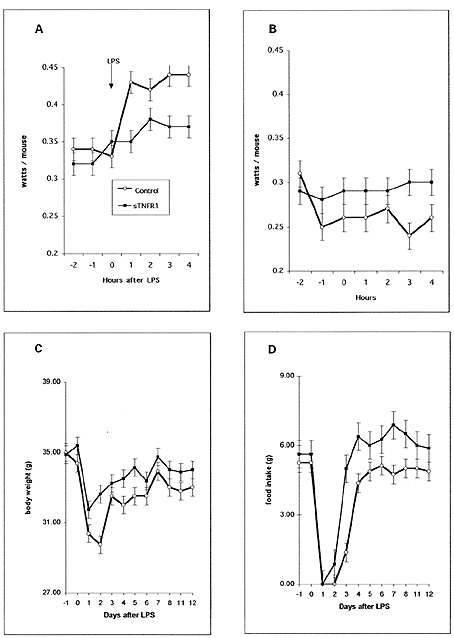 ---

Figure 1
A. Absolute level of energy expenditure (EE) in response to lipopolysaccharide (LPS) injection in control (negative littermates) and sTNFR1-IgG transgenic mice 2 hours before and 4 hours after injection.

Results are expressed in W/mouse (means ± SE); n = 20 in each group. Note that in transgenic mice, the increase in metabolic rate was about 50% of that in controls. B. EE of the same mice measured 2 days after LPS injection at the same time of day. C and D. Body weight (C) and food intake (D) before and in response to LPS injection over a period of 12 days. Data are expressed in g. day -1.mouse -1 (means ± SE), n = 16 in each group. Food intake recovered more rapidly in transgenic mice.

---
---

Figure 2
Energy expenditure (A) and food intake (B) in response to LPS injection in wild-type (control), sTNFR1-IgG, TNF-alpha KO, LT-alpha KO, anti-IFN-gamma, IFN-gamma R KO mice and in anti-asialo, GM1 antibody-treated mice.

A. Normalised EE for body weight to power 0.75 (to adjust for differences in body weight) and expressed as the ratio of 4 hours post-injection over pre-injection values (means ± SE); n = 12 for control and 6-8 for other groups of mice. Compared to control, increases of EE in all groups are significantly less (p ¾ 0.03). B. Food intake in g.day- 1.mouse- 1 of the same groups of mice, expressed as ratio of 2 day post-injection over pre-injection values (means ± SE). Food intake recovery after LPS is significantly higher in IFN-gamma deficient mice, indicating that this cytokine is involved in LPS anorexia.

---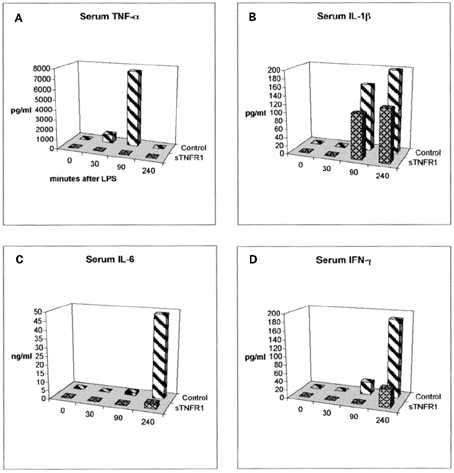 ---

Figure 3
Kinetics of serum cytokine concentrations in response to LPS injection in control and sTNFR1-IgG transgenic mice.

TNF-alpha (A) and IL-6 (B) were determined by bioassay, whereas IL-1beta (C) and IFN-gamma (D) were measured by immunoassay as described in Materials and methods and are expressed either in pg/ml or in ng/ml; n = 6 in each group.

---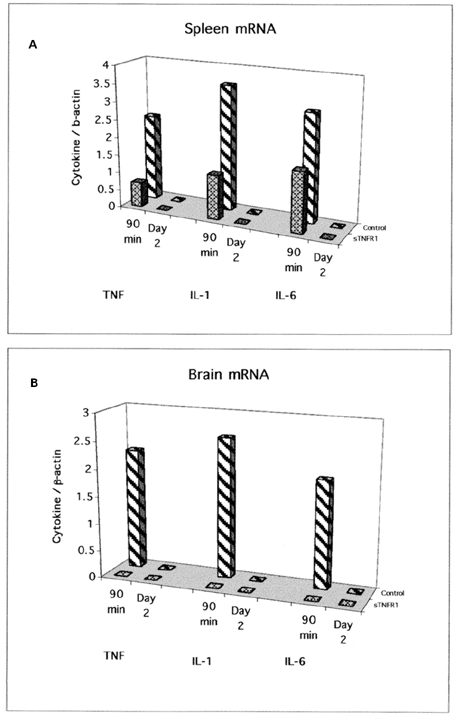 ---

Figure 4
mRNA expression of TNF-alpha, IL-1beta and IL-6 in spleen (A) and brain (B) in response to LPS, determined 90 min or day 2 post-injection in control and sTNFR1-IgG transgenic mice; cytokine mRNAs were normalised to beta-actin mRNA levels; n = 3 in each group.

Whereas expressions of these cytokines are significantly induced, although to a lesser extent (p ¾ 0.05) in the spleen of transgenic mice, they are not detected in their brains.

---
---

Figure 5
Blood-brain barrier permeability as determined 90 min after LPS administration by retro-orbital injection of Evans blue dye or with phosphate-buffered saline (PBS) in wild type and sTNFR1-IgG transgenic mice; n = 3 in each group.

A marked Evans blue accumulation indicates increased blood-brain barrier permeability, and was measured spectrophotometrically (OD: optical density).

---