Psychologie & NeuroPsychiatrie du vieillissement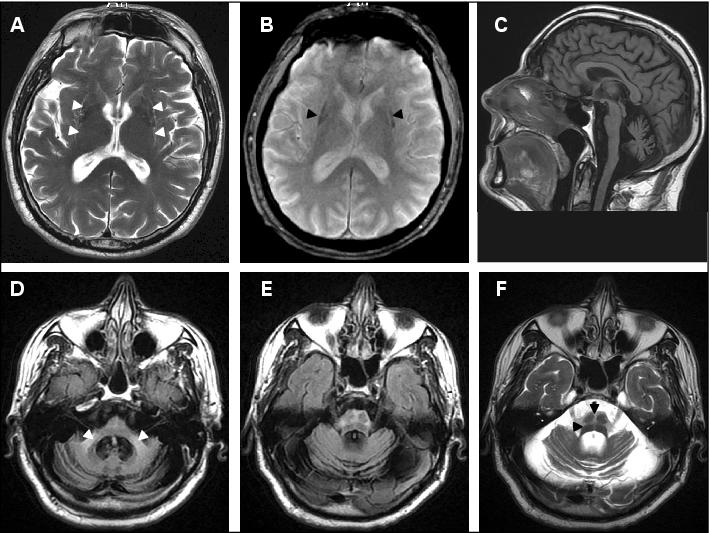 Figure 1 Exemples d'anomalies observées à l'IRM cérébrale chez les patients AMS. (A) Sur les séquences T2, on note un hypersignal de la bordure postérolatérale du putamen (pointe des flèches blanches). (B) Chez le même patient, les séquences T2 écho-gradient mettent en évidence un hyposignal de la partie postérieure du putamen, lié à l'augmentation de la teneur en fer dans cette structure (pointe des flèches noires). Au cours de l'évolution, cet hyposignal apparaît aussi sur les séquences en T2. (C) La séquence T1 en sagittal met en évidence une atrophie ponto-cérébelleuse, alors que la taille du mésencéphale est préservée. (D-F) Les séquences pondérées en FLAIR et T2 révèlent des pédoncules cérébelleux moyens atrophiés et discrètement hyperintenses (D, pointe des flèches blanches) ainsi que le « signe de la croix » (E et F, pointe des flèches noires) dû à une atrophie des fibres pontiques, qui débute habituellement par l'hypersignal vertical.
Figure 1 Examples of MRI abnormalities in MSA patients. (A) T2 weighted imaging shows a hyperintense rim at the putaminal edge (white arrowheads). (B) The same patient also displays a hypointensity of the posterior putamen on T2* gradient echo imaging, in line with increased iron content (black arrowheads). During disease progression, this hyposignal also appears on T2 weighted imaging. (C) Sagittal T1 weighted imaging reveals pontocerebellar atrophy, while the size of the midbrain is normal. (D-F) FLAIR and T2 weighted imaging show severe atrophy and mild signal increase of both middle cerebellar peduncles (D, white arrowheads) as well as the "hot cross bun" sign (E and F, black arrowheads). The latter is due to atrophy and gliosis of the transverse pontine fibers and usually starts with a hyperintense vertical line.