C-reactive protein and cardiovascular risk
Sang Thrombose Vaisseaux. Volume 17, Number 1, 33-8, Janvier 2005, Mini-revue
Résumé
Summary

Author(s) : Jacques Amar, Isabelle Mulazzi, Lisa Richard, Béatrice Bouhanick, Bernard Chamontin , Service de médecine interne et d'hypertension artérielle, CHU Rangueil, avenue du Professeur Jean Poulhès, 31403 Toulouse Cedex 9, SAMU 31, CHU Purpan, place du Docteur Baylac, 31059 Toulouse Cedex 9.

Summary : There is much evidence to support a pivotal role for inflammation in all phases of atherosclerosis from the initiation of the fatty streak to its culmination in acute coronary syndromes. C-reactive protein is produced by the liver under the control of interleukin 6. As shown in a recent meta-analysis, CRP predicts the risk for cardiovascular disease in apparently healthy persons independently of established risk factors. In addition, some data support the fact that CRP contributes to atherogenesis. Its deleterious influence on macrophages, endothelial and smooth muscular cells has been documented in vitro. Interestingly, data derived from a CRP transgenic mouse model in which the CRP level increases to 18.6 mg/L supports the concept that CRP may function as a procoagulant : after injury to the femoral artery, there was complete thrombotic obstruction in 75 % of the human transgenic mice when compared with 17 % of the wild type mice. From a therapeutic point of view, statins and some antihypertensive agents such as perindopril/indapamide and valsartan decrease CRP levels. Whether this effect on CRP explains differences in outcome observed with some of these agents beyond their effects on blood pressure and lipoproteins is not known. In summary, CRP is an independent cardiovascular risk marker. In order to assess cardiovascular risk, one needs access to high sensitive CRP assay and to be sure that the patient is free from any active inflammatory process. CRP can be used as an additional risk marker for cardiovascular disease in patients with a Framingham risk score and is especially useful in patients at intermediate risk (between 10 and 20 % risk of coronary heart disease over 10 years), in whom the physician may need additional information to guide considerations of further evaluation or therapy.

Keywords : C-reactive protein, inflammation, cardiovascular risk
Pictures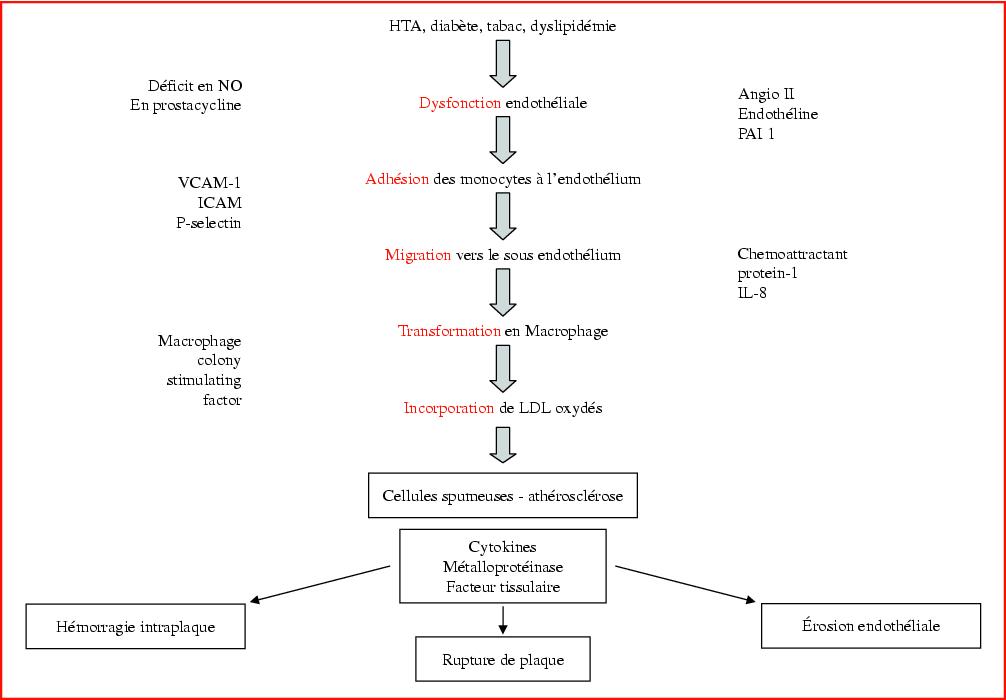 Figure 1 Athérome et inflammation.
Figure 2 Synthèse de la CRP et résistance à l'insuline.
Figure 3 Aire sous la courbe ROC de prédiction des évènements coronariens (source : [18]).