Arterial remodeling in diabetes
Sang Thrombose Vaisseaux. Volume 17, Number 1, 14-22, Janvier 2005, Mini-revue
Résumé
Summary

Author(s) : Pierre Boutouyrie, Anne-Isabelle Tropeano, Stéphane Laurent , Service de pharmacologie, hôpital Européen Georges Pompidou, 20 rue Leblanc, 75908 Paris cedex 15.

Summary : The rising frequency of type 2 diabetes is a major health problem. The clinical complications of diabetes are strongly linked to micro and macrovascular lesions. The earliest stage of vascular disease is endothelial dysfunction, consequence of increased oxidative stress, secretion of growth factors, activation of transduction pathways, inflammation and accumulation of end-glycation products. It leads to decreased vasodilatory properties, proliferation of vascular smooth muscle cells, increased extracellular matrix production and finally increased stiffness/thickness of vessels. In the long term, these abnormalities are aggravated by the coexistence of other cardiovascular risk factors such as hypertension, dyslipidemia and obesity. The association of risk factors may be observed in the metabolic syndrome, leading to early and severe atherosclerosis. The long term prognosis is bad, comparable with most severe diseases. Therapeutic management is based on a multidisciplinary approach – dietetic, lipid and blood pressure lowering – leading to a marked improvement in prognosis. Screening for early stages of vascular disease in diabetic patients, for increased arterial stiffness and thickness, and altered endothelial function may lead to early treatment and the prevention of major cardiovascular events. Specific treatments for early arterial lesions are still under validation. Advanced glycation end-products breakers have shown a pressure-independent effect on large artery disease and may represent the first of a new family of medications.

Keywords : diabetes, arterial hypertension, remodelling, atherosclerosis, arterial rigidity, intima-media thickness
Pictures
Figure 1 Différents types de remodelages artériels, observés en pathologie.Le vaisseau A représente le remodelage hypertrophique, tel qu'il peut être observé dans l'hypertension artérielle. B représente le remodelage eutrophique (impliquant une réduction structurale de la lumière artérielle) ; C (hypotrophique) et D (hypertrophique excentrique) représentent l'adaptation à une diminution ou une augmentation du flux artériel chronique. E et F représentent les remodelages de l'athérosclérose — E : hyperplasie intimale (resténose post-angioplastie), F : athérosclérose avérée (d'après [1]).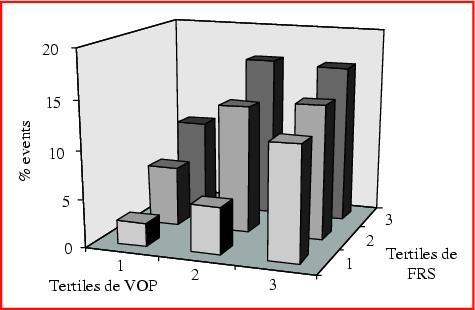 Figure 2 Risque de cardiopathie ischémique fatale ou non en fonction de tertiles croissants de rigidité artérielle (VOP) et du score de Framingham (FRS) chez 1045 hypertendus essentiels suivis pendant 6 ans [15].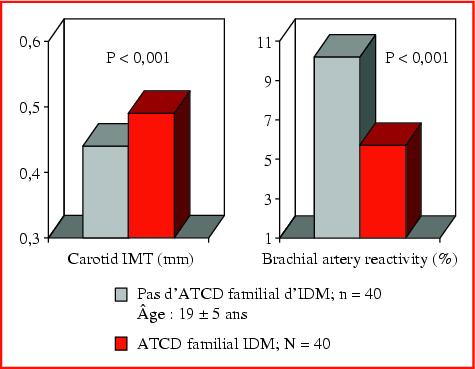 Figure 3 EIM carotidienne chez des adolescents descendants de patients porteurs d'infarctus du myocarde précoce.Augmentation de l'épaisseur intima-média et altération de la réponse endothéliale chez de jeunes sujets ayant une histoire familiale d'infarctus, par rapport à des témoins sans histoire familiale [23].
Figure 4 Mortalité toutes causes en fonction des tertiles croissants de vitesse de l'onde de pouls lors du suivi longitudinal de 1960 hypertendus essentiels [16].