Peripheral occlusive arterial disease of the lower limbs and diabetes
Sang Thrombose Vaisseaux. Volume 16, Number 8, 393-402, Octobre 2004, Mini-revue
Résumé
Summary

Author(s) : Agnès Hartemann-Heurtier, Camille Deybach , Service de diabétologie, Hôpital de la-Pitié, 83, boulevard de l'Hôpital, 75013 Paris, France.

Summary : Approximately 20% of diabetic patients over sixty years old are affected by peripheral arterial disease. This cardio-vascular diabetic complication is the most specifically correlated with hyperglycaemia. It is associated with an increased risk of major amputation and an increased rate of death from coronary disease. However interventional studies on cardio-vascular risk often neglect to assess the full impact of this complication. Diabetic peripheral arterial disease usually affects distal segments in the lower limbs. Duplex ultrasound investigation of the distal limb and foot arterial vessels, is the first line diagnostic exam. Peripheral arteriography is required only when a revascularization procedure is indicated. It should include late images to allow analysis of foot arterial vascularization. In the presence of a diabetic foot ulcer it is possible to measure the transcutaneous oxygen pression, and/or the toe or ankle pressure, to decide if an angioplastic procedure or a distal bypass graft is indicated and feasible. The latter is often effective because of the persistence of an intact pedal vessel, and is associated with 80% limb salvage rate. Diabetic foot wounds are often responsible for ischemic complications and secondary amputation. Preventive recommendations in case of arterial diabetic foot disease should be efficient to reduce major amputation rates.

Keywords : diabetes, peripheral arterial disease, diabetic foot wound, amputation
Pictures
Fig. 1 Incidence de l'artériopathie (PVD) sur une durée de 6 ans en fonction de l'HbA 1c à l'entrée dans l'étude après ajustement pour l'âge, le HDL cholestérol, les antécédents cardiovasculaires, le tabac et la neuropathie. D'après UKPDS 59 [1].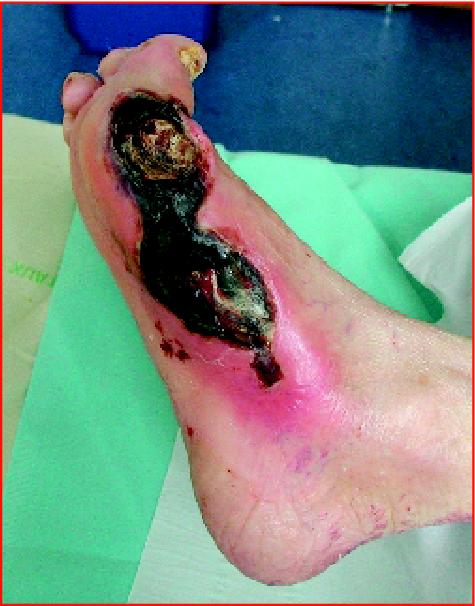 Fig. 2 Plaie ischémique du pied diabétique secondaire à un frottement latéral d'une chaussure trop serrée.
Fig. 3 Angioplastie du tronc tibio-péronier et de l'artère péronière sur une artériopathie diabétique.