Congenital hypogonadotropic hypogonadism: diagnostic, pathophysiological and genetic aspects
Médecine Thérapeutique / médecine de la reproduction. Volume 9, Number 5, 318-28, novembre-décembre 2007, Revue

DOI : 10.1684/mte.2007.0106
Résumé
Summary

Author(s) : Jacques Young , Université Paris SUD 11–APHP, Service d'Endocrinologie et des Maladies de la Reproduction, Hôpital de Bicêtre, 78, rue du Général Leclerc, 94275 Le Kremlin Bicêtre.

Summary : The last 20 years, a great deal has been learned about the mechanism underlying congenital gonadotropin deficiency. Kallmann syndrome (KS) is a developmental disease that combines hypogonadotropic hypogonadism and anosmia. Anosmia is related to the absence or hypoplasia of the olfactory bulbs. Hypogonadism is due to GnRH deficiency and is likely to result from the failed embryonic migration of GnRH-synthesizing neurons. KS is phenotypically and genetically heterogeneous. The gene responsible for the X-chromosome linked form of the disease (KAL1) has been identified in 1991. KAL1 encodes anosmin-1, a glycoprotein present locally in various extracellular matrices during the period of organogenesis. The more recent finding that FGFR1 mutations are involved in one autosomal dominant form of Kallmann syndrome (KAL2), suggests that the disease results from a deficiency in FGF signaling at the earliest stage of olfactory bulb morphogenesis. It has been propose that the role of anosmin-1 is to enhance FGF signaling and suggest that the gender difference in anosmin-1 dose (because KAL1 partially escapes X-inactivation) could explain the higher prevalence of the disease in males. Mutations in these 2 genes, however, only account for approximately 20% of all Kallmann syndrome cases. In 2006, using a candidate gene strategy, mutations in the genes encoding the G protein coupled prokineticin receptor-2 (PROKR2) and one of its ligands, prokineticin-2 (PROK2), were found. These findings reveal that insufficient prokineticin-signaling through PROKR2 leads to abnormal development of the olfactory system and reproductive axis in man. They also shed new light on the complex genetic transmission of Kallmann syndrome. Isolated hypogonadotropic hypogonadism (IHH) is characterized by complete or partial failure of pubertal development due to impaired secretion of luteinizing hormone (LH) and follicle-stimulating hormone (FSH) but with a normal sense of smell. In the molecular pathogenesis of IHH, the gonadotropin-releasing hormone receptor (GnRH-R) plays a central role. GnRH-R germline mutations were among the first genetic alterations identified in eunosmic patients with IHH. These mutations are associated with impaired GnRH binding, ligand-induced signal transduction, or both, leading to various degrees of LH and FSH deficiency. In 2003, mutations of the KiSS-1-derived peptide receptor GPR54, involved in the control of GnRH secretion, were identified in patients with IHH, opening a new pathway in the physiologic regulation of puberty and reproduction.

Keywords : hypogonadotropic-hypogonadism, Kallmann, GnRH, gonadotropin, puberty
Pictures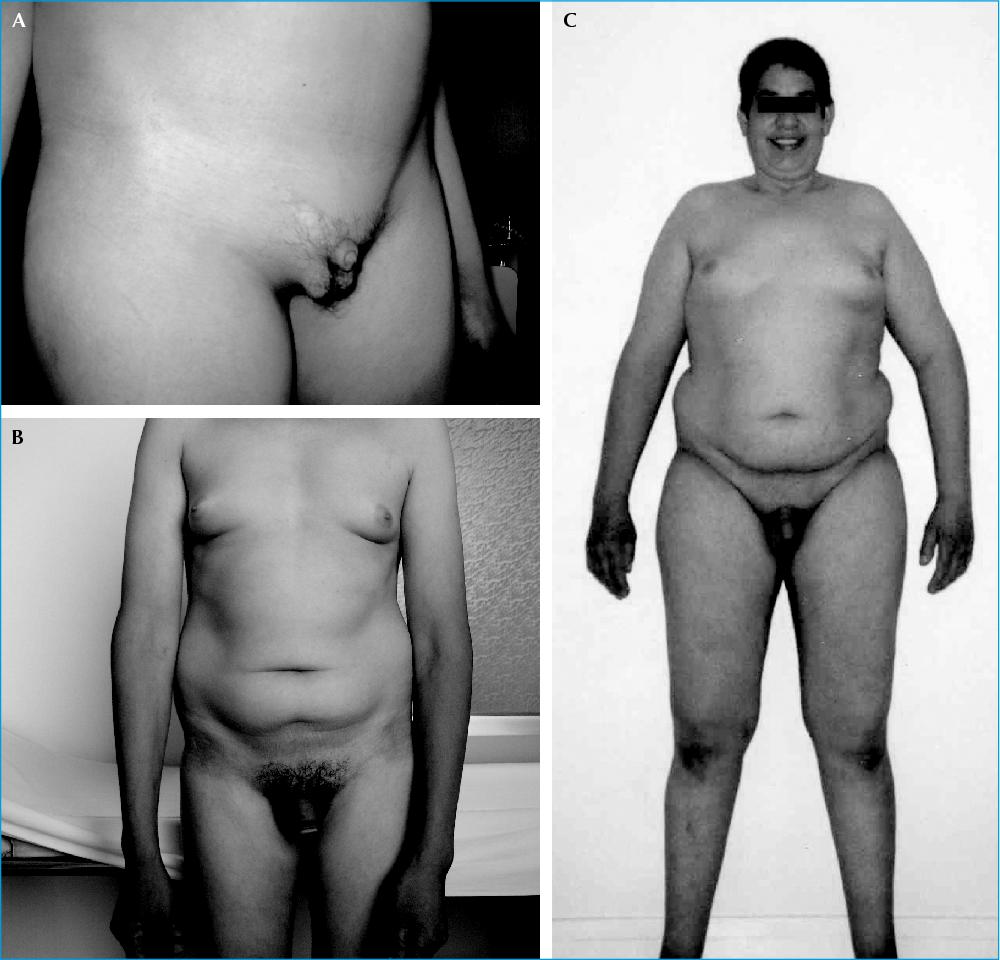 Figure 1 A) Absence de développement pubertaire avec cicatrice de cryptorchidie opérée, micropénis et aspect gynoïde chez un patient présentant un syndrome de Kallmann avec déficit gonadotrope complet ; B) pilosité pubienne chez un patient avec hypogonadisme hypogonadotrophique congénital découvert tardivement ; C) aspect eunuchoïde et gynécomastie chez un patient atteint d'un syndrome de Kallmann.
Figure 2 A) Testostérone plasmatique chez des hommes et des patients avec un hypogonadisme hypogonadotrophique congénital (HHC) ; B) gonadotrophines circulantes chez ces mêmes patients.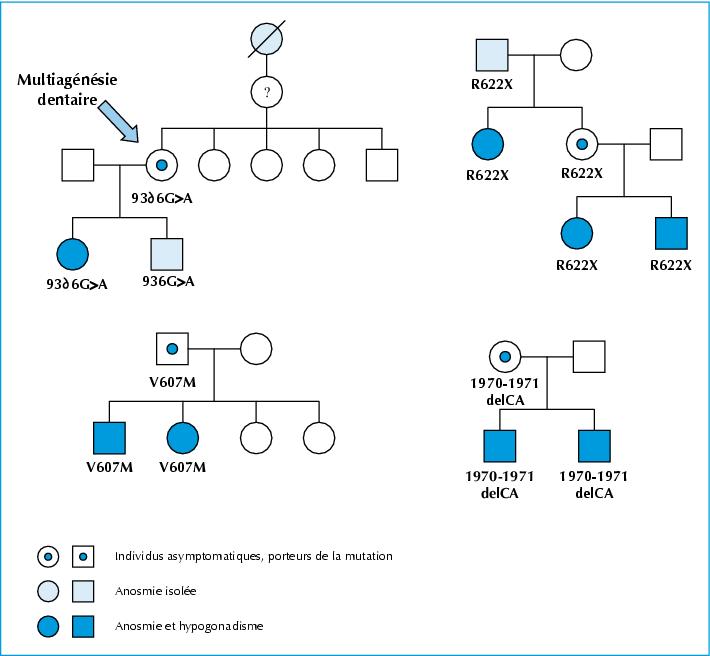 Figure 3 Pénétrance incomplète des mutations de FGFR1. Noter les arbres qui simulent une forme autosomique récessive (en bas à gauche) et une forme liée à l'X (en bas à droite).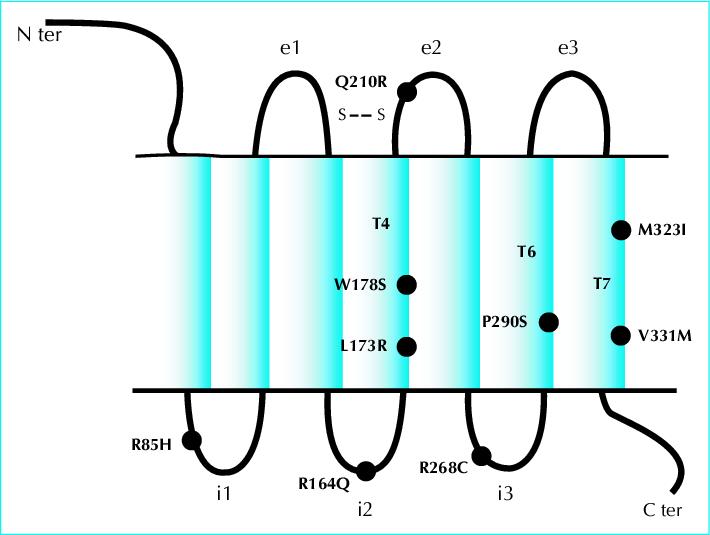 Figure 4 Mutations du récepteur PROKR2 responsables d'une des formes autosomiques dominantes de syndrome de Kallmann (d'après [27]).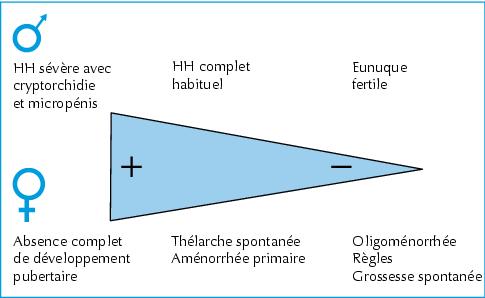 Figure 5 Eventail phénotypique observé chez les patients avec hypogonadisme hypogonadotrophique (HH) congénital et des mutations du récepteur de la GnRH. À gauche, les formes les plus sévères, à droite les plus atténuées.
Figure 6 Représentation schématique de l'interaction entre les neurones sécrétant le peptide Kiss 1 et les neurones à GnRH au niveau hypothalamique. Kiss stimulerait ces derniers suite à sa liaison avec le récepteur GPR54. Une mutation avec perte de fonction de GPR54 aboutit à une absence de libération de GnRH et donc à un HHC d'origine hypothalamique. Le rétrocontrôle négatif des stéroïdes sexuels sur la sécrétion de GnRH serait indirectement assuré par les neurones sécrétant Kiss qui possèdent des récepteurs à l'estradiol (ER) et aux androgènes (AR) [35].