Human papillomavirus 13 in a Mexican Mayan community with multifocal epithelial hyperplasia: could saliva be involved in household transmission?
European Journal of Dermatology. Volume 21, Number 3, 396-400, May-June 2011, Clinical report

DOI : 10.1684/ejd.2011.1347
Résumé

Author(s) : Maria Eugenia Lopez-Villanueva, Laura Conde-Ferráez, Guadalupe Ayora-Talavera, Jose D. Cerón-Espinosa, Maria del Refugio González-Losa, Dentistry School, University of Yucatan, Merida Yucatan, México, Virology Laboratory, University of Yucatan, Avenida Itzaez y calle 59 No.490 Centro, CP 97000, Merida Yucatan, México, Dermatology Center, Health Ministry, Merida Yucatan.

Keywords : human papillomavirus, Mexico, Mayan, multifocal epithelial hyperplasia, type 13
Pictures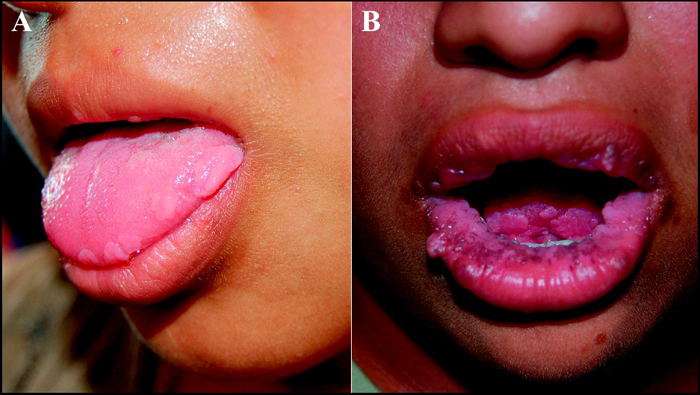 Figure 1 A) A 14-year-old female, with lesions on tongue and upper lip, with two years of evolution. B) 12-year-old female, with multiple lesions on the lower and upper lip, and tongue, with two years of evolution.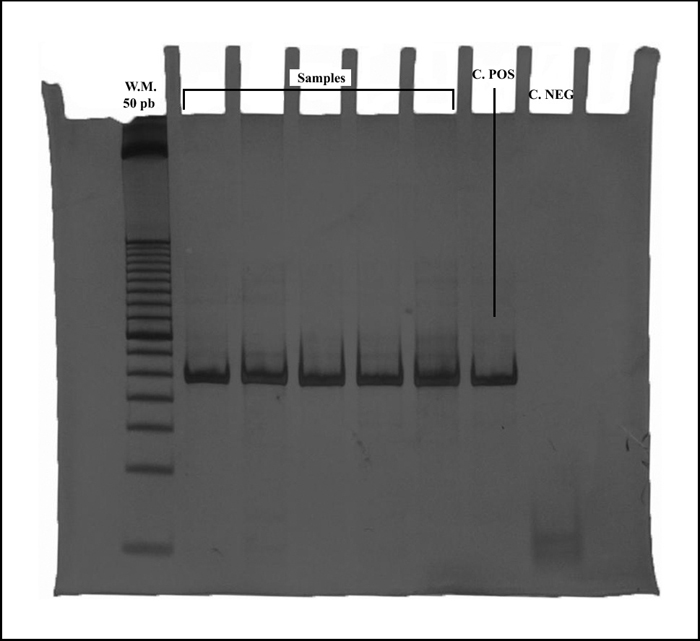 Figure 2 Polyacrilamide gel (85) and silver stained. M, 50-pb DNA ladder markers, lanes 1-5, clinical samples, lane 6, positive control, lane 7, negative control.
Figure 3 Family distribution of MEH and HVP13 infection. The family comprised of both parents and 5 children. Two daughters have MEH, one female teenager and a 4-year-old girl had neither the disease nor the virus. In both parents and a 2-year-old son HPV13 DNA was found but they did not have lesions.