Prevalence of piercing in a German population
European Journal of Dermatology. Volume 18, Number 1, 26-8, January-February 2008, Investigative report

DOI : 10.1684/ejd.2008.0306
Summary

Author(s) : Petra Gutsche, Gottfried Schmalz, Michael Landthaler , Department of Dermatology, University of Regensburg, Franz-Josef-Strauss-Allee 11, D 93051 Germany, Department of Operative Dentistry and Periodontology, University of Regensburg, Germany.

Summary : The aim of the present study was to determine the prevalence of piercing in a given German population. Questionnaires were given to 5,000 patients of a private dental practice, two private dermatology practices and the outpatient Clinic of the Department of Dermatology at the University of Regensburg. A total of 4,505 patients were evaluated. We found 389 patients with piercings other than that of earlobes (8.6%). More piercings were found in females (12.9%) than in males (4.1%).The study shows a high prevalence of piercings in a given population. For that reason, dermatologists ought to be aware of the different types of piercings available as well as their short- and long-term complications.

Keywords : piercing, prevalence of piercing, complications
Pictures
Figure 1 Multiple piercings in 28-year-old female patient.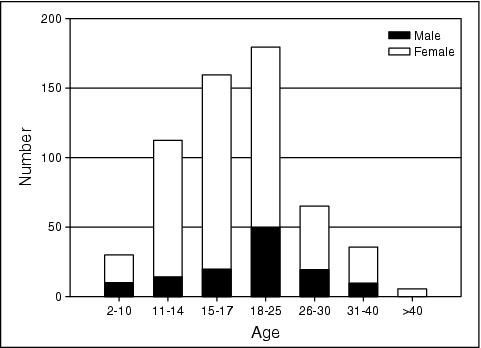 Figure 2 Age at time of piercing.
Figure 3 Recession caused by lip piercing.