Melanoma of the glans penis
European Journal of Dermatology. Volume 15, Number 2, 113-5, March-April 2005, Clinical report
Summary

Author(s) : Roberto Betti, Silvano Menni, Carlo Crosti , University of Milan – Clinica Dermatologica, Ospedale San Paolo, Via di Rudinì 8, 20142 Milano Italy.

Summary : The authors describe the case of a 64-year old man who presented with an asymptomatic brown macula on his glans penis that had appeared about 18 months earlier. Dermoscopy analysis demonstrated a prominent, wide and irregular pigment network, which stopped abruptly at the periphery of the lesion. A diagnostic biopsy showed the characteristics of a melanoma in situ .The patient was referred for partial surgical excision of the glans. No recurrence or metastasis occurred during the two years after the operation. Melanoma in situ of the penis is very rare in dermatologic literature. Early diagnosis is of paramount importance because its prognosis is very poor. Early systematic use of dermoscopy may be useful for the differential diagnosis of pigmented mucosal lesions, which include mucosal melanosis and other benign melanoses of genitalia.

Keywords : dermoscopy, early diagnosis, epiluminescence, glans penis, melanoma in situ
Pictures
Figure 1 Uniform smooth dark brown pigmented macule partially occupying the glans penis.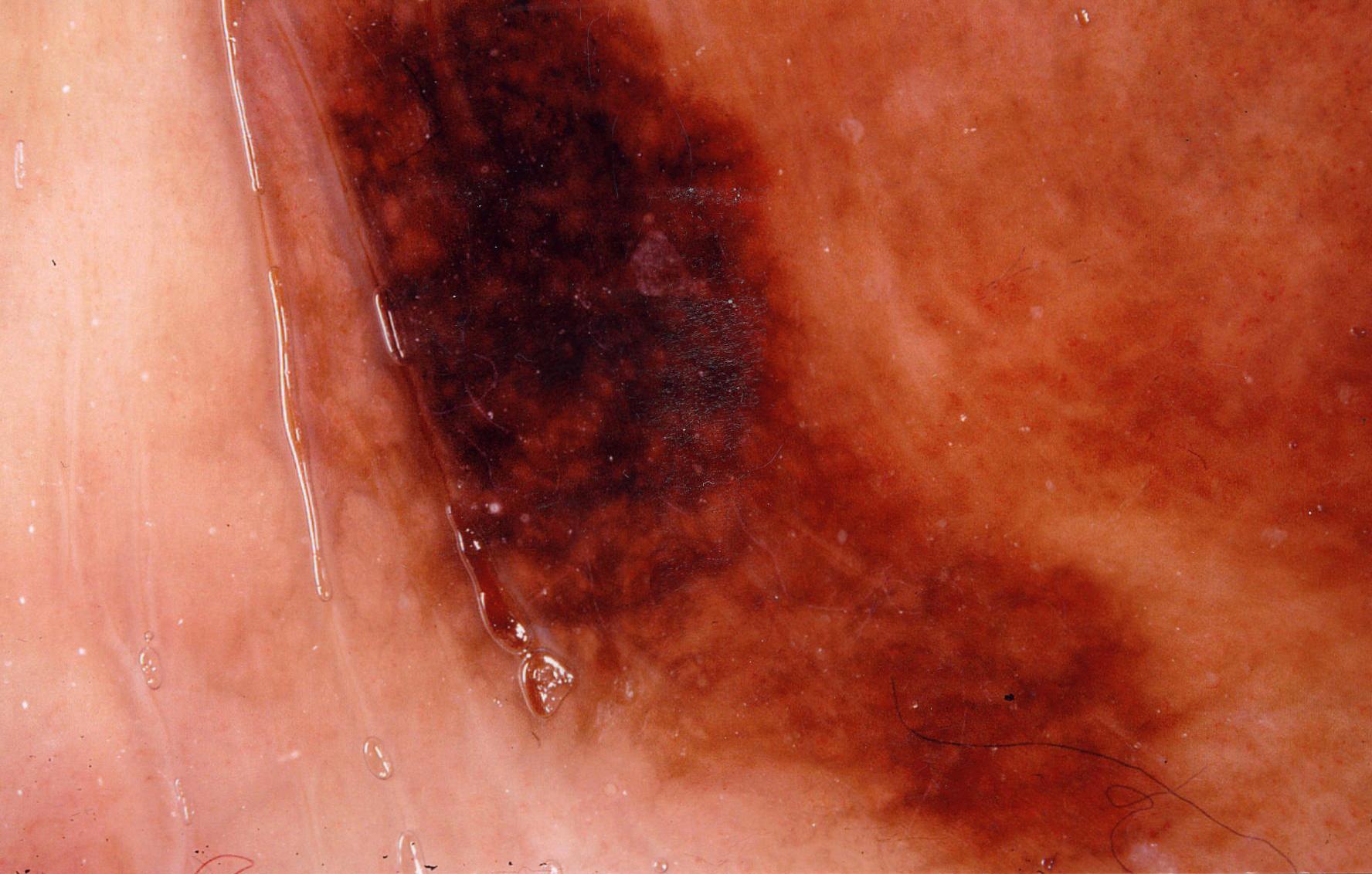 Figure 2 Epiluminescence examination (× 10) revealed a prominent pigment network, wide and irregular, particularly at the center of the lesion. The pigment network abruptly stopped at the periphery. A fine more peripheral pigment network was observed in particular near the medial portion of the lesion.
Figure 3 Histologic appearance showing numerous atypical melanocytic cells with large hyperchromatic nuclei and abundant cytoplasm. The melanocytes often are arranged in nests and in a lentiginous pattern along the basal layer. Atypical melanocytic cells were also scattered in the upper layers of the epidermis. No dermal invasion of atypical melanocytes was seen (× 10).