Febrile ulceronecrotic Mucha‐Habermann disease with extensive skin necrosis in intertriginous areas
European Journal of Dermatology. Volume 13, Number 5, 493-6, September 2003, Clinical report
Summary

Author(s) : Chao‐Chun YANG, Julia Yu‐Yun LEE, WenChieh CHEN , Department of Dermatology, College of Medicine, National Cheng Kung University, 138 Sheng‐Li Road, Tainan, Taiwan .

Summary : Febrile ulceronecrotic Mucha‐Habermann disease (FUMHD) is a severe variant of pityriasis lichenoides et varioliformis acuta characterized by high fever and papulonecrotic skin lesions. Here we report a case of a 14‐year‐old boy with typical features of FUMHD and unusual manifestation of extensive skin necrosis in intertriginous regions including axillae, neck, inguinal and antecubital areas. Systemic administration of corticosteroid and erythromycin led to rapid healing of ulcerations without residual scar formation. Review of the literature showed male‐predominance and favorable outcome in pediatric cases of FUMHD.

Keywords : corticosteroid, erythromycin, febrile ulceronecrotic Mucha‐Habermann disease, pityriasis lichenoides et varioliformis acuta
Pictures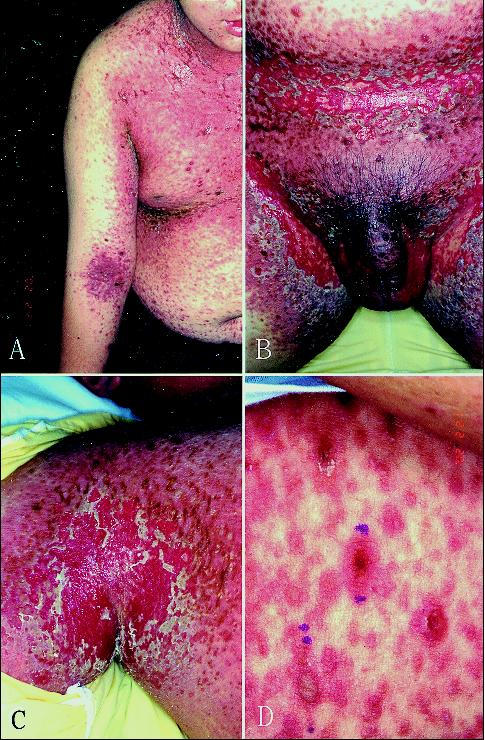 Figure 1. (A) Confluent necrotic papules over neck and antecubital areas. (B) Denuded skin over abdominal skin folds and inguinal areas. (C) Extensive skin necrosis with purulent discharge over bilateral axillae. (D) Close‐up of necrotic papules and pustules with thick hemorrhagic crusts over the abdominal wall.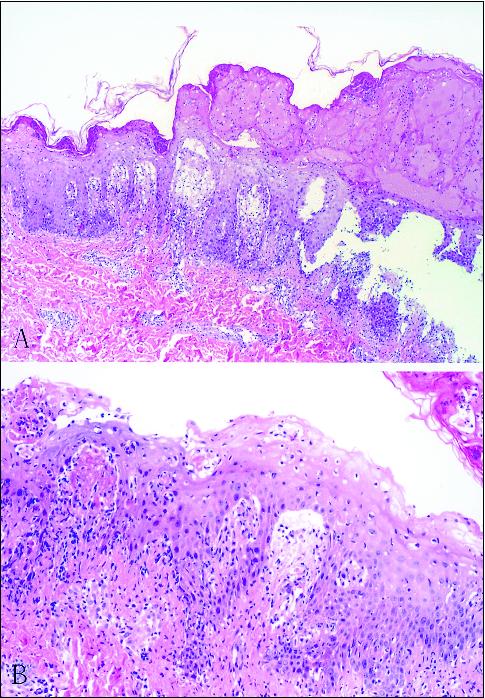 Figure 2. Histopathology of a necrotic lesion of FUMHD shows extensive epidermal necrosis with lymphocytic infiltration and a patchy lichenoid infiltrate obscuring the dermoepidermal interface, H&E (A) × 40, (B) × 100.


Figure 3. The infiltrate consists of an equal mix of CD4 + and CD8 + lymphocytes (Immunostaining. (A) CD4 stain, × 100, (B) CD8 stain, × 100).