Phacomatosis pigmentokeratotica: another epidermal nevus syndrome and a distinctive type of twin spotting
European Journal of Dermatology. Volume 10, Number 3, 190-4, April - May 2000, Gènes et peau
Summary

Author(s) : M. Boente, N. Pizzi de Parra, M. Larralde de Luna, H. Bibas Bonet, A. Santos Muñoz, V. Parra, P. Gramajo, S. Moreno, R.A. Asial, Department of Dermatology, Hospital del Niño Jesús, Pasaje Bertres 224, San Miguel de Tucumán, 4000 Tucumán, Argentina..

Summary : The name epidermal nevus syndrome could be applied to a group of clinically and histopathologically different entities as has been pointed out by Happle. Phacomatosis pigmentokeratotica is a further type of epidermal nevus syndrome distinguished by the presence of a sebaceous nevus and a contralateral speckled lentiginous nevus of the papular type, associated with skeletal or neurological abnormalities. Three new cases of this recently delineated syndrome are presented. A common origin may account for the temporal and spatial relationship between the epidermal and the speckled lentiginous nevus. The concept of melanocytic-epidermal twin spotting similar to the interpretation of vascular twin spotting could explain the pathogenesis of this entity.

Keywords : epidermal nevus syndrome, phacomatosis pigmentokeratotica, sebaceous nevus, lentiginous nevus.
Pictures
---

Figure 1. Case 1. Systematized verrucous epidermal nevus and ipsilateral speckled lentiginous nevus. Note slight body asymmetry.

---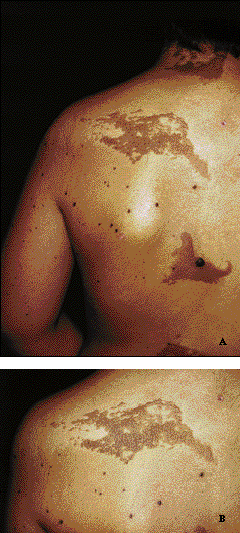 ---

Figure 2. A and B. Case 1.Verrucous epidermal nevus and speckled-lentiginous nevus of the papular type. telangiectatic nevoid area evident on the upper right side. (A) Overall aspect, (B) close-up.

---
---

Figure 3. Case 1. Sebaceous nevus on the left preauricular area. Note the collagenous nevus following a linear pattern on the left side of the chin.

---
---

Figure 4. Case 2. Sebaceous nevus involving the face. Speckled-lentiginous nevus on the trunk. Note the hypertrophic surgical scar on the mandibular area.

---
---

Figure 5. Case 2. Organoid nevus involving the eye and the mouth.

---
---

Figure 6. Case 3. Systematized epidermal nevus involving the right side of the body. A speckled-lentiginous nevus showing a checkerboard distribution is present on both sides.

---