An ultrastructural and immunohistochemical study of pigmented dermatofibrosarcoma protuberans (Bednar tumor)
European Journal of Dermatology. Volume 9, Number 5, 366-9, July - August 1999, Revues
Summary

Author(s) : M. Kagoura, M. Toyoda, H. Nagahori, T. Makino, M. Morohashi, Department of Dermatology, Faculty of Medicine, Toyama Medical and Pharmaceutical University, 2630, Sugitani, Toyama 930-0194, Japan..

Summary : A case of Bednar tumor on the right shoulder of a 47-year-old Japanese woman is reported. Histological examination showed plump, spindle cells arranged in a storiform pattern in central areas of the tumor and a diffuse infiltration of the dermal stroma, which was frequently extended into the subcutis at the periphery of the tumor. The tumor contained a fairly identified population of dendritic pigmented cells. Ultrastructurally, most cells had folded nuclei, were spindle-shaped and had long, slender cytoplasmic projections. Dendritic pigmented cells, which were dispersed among neoplastic cells, contained premelanosomes and mature melanosomes. Immunohistochemically, tumor cells exhibited positive reactions for vimentin and CD 34 and failed to show a positive reaction for neuron specific enolase, HMB-45 or S-100 protein. Factor X IIIa was only expressed on tumor cells around melanin-containing cells, which reacted positively with antibodies to S-100 protein and vimentin. These results indicate that the phenotype of tumor cells around melanin-containing cells differs from other tumor cells and that this difference may be caused by the relationship of tumor cells and melanin-containing cells.

Keywords : pigmented dermatofibrosarcoma protuberans, ultrastructural study, immunohistochemistry, CD 34, factor X IIIa.
Pictures
---

Figure 1. Clinical appearance. Blue-black nodule with irregular border and erythematous plaque on the right shoulder.

---
---

Figure 2. Histological findings. Typical storiform pattern composed of fusiform tumor cells and intermingled collagen bundles with dendritic melanin-containing cells.

---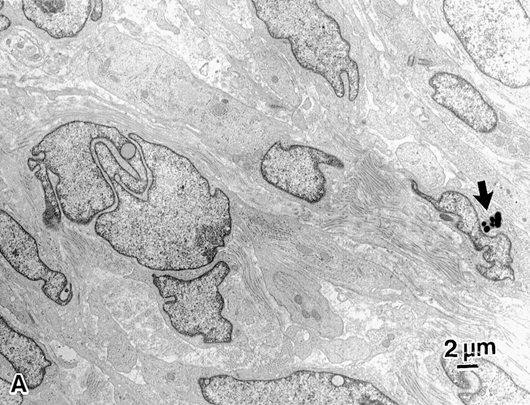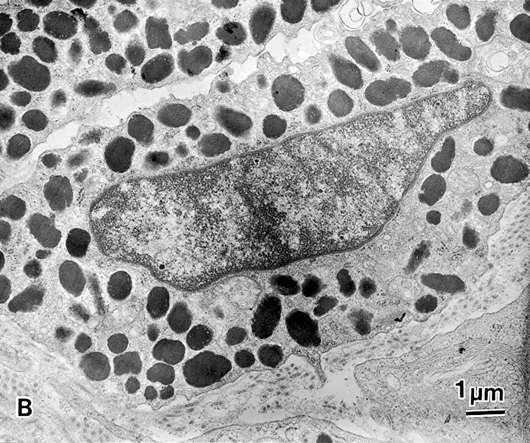 ---

Figure 3. Ultrastructural findings. Spindle-shaped tumor cell with rather folded nucleus and slender cytoplasmic projection. Tumor cell containing phagocytotic melanosomes (arrow) (A) (x 3,000). Pigmented dendritic cells containing both pre and mature melanosomes (B) (x 10,000).

---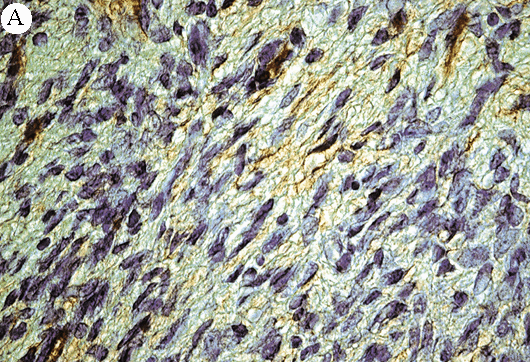 ---

Figure 4. Immunohistochemical findings. Positive reaction for antibody against CD 34 in the majority of tumor cells (A). Positive reaction for antibody against factor X IIIa in tumor cells only around dendritic melanin-containing cells (B).

---