Clinical course of the patient and histological findings
European Journal of Dermatology. Volume 10, Number 8, 639-40, December 2000, Votre diagnostic !
Summary

Author(s) : E. Vandeweyer, N. de Saint Aubin Somerhausen, G. Andry, Department of Plastic Surgery, Jules-Bordet Cancer Institute, rue Héger-Bordet 1, B-1000 Bruxelles, Belgium.

Summary : A 50-year-old man presented with a large tumour on the left shoulder. The lesion was present and slowly growing for ten years. Anamnesis did not reveal any possible etiological factor or previous trauma. At the time of presentation, the tumour measured 14 x 13 x 12 cm, superficial ulcerations were noted but the lesion remained asymptomatic (Fig. 1). Both CT scanner and MRI described an exophytic mass without signs of infiltration of the deepest structures. No enlarged lymph nodes were noted on clinical examination or imaging. General screening was negative for disseminated disease. The lesion was completely removed by excisional surgery and the defect was covered with a pedicled muscular pectoralis major flap associated with split thickness grafts.
Pictures
---

Figure 1. Clinical appearance of the lesion at time of presentation.

---
---

Figure 2. Photomicrography of the lesion (Hematoxylin-eosin, original magnification: x 40).

---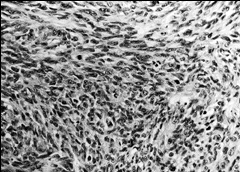 ---

Figure 3. Photomicrography of the lesion (hematoxylin-eosin, original magnification: x 400).

---