Fluorinated analogs of nucleosides and fluorinated tracers of gene expression for positron emission tomography
Bulletin du Cancer. Volume 91, Number 9, 695-703, Septembre 2004, SYNTHÈSE
Résumé
Summary

Author(s) : Olivier Couturier , Jean-François Chatal , Roland Hustinx , Service de médecine nucléaire, Hôtel-Dieu, CHU, Place Alexis-Ricordeau, 44093 Nantes Cedex, Service de médecine nucléaire, Hôpital du Sart Tilman, CHU, Liège, Belgique.

Summary : 18F-FDG is currently the only fluorinated tracer used in routine clinical positron emission tomography (PET). Fluorine 18 is considered as the ideal radioisotope for PET, thanks to a low positron energy, which not only limits the dose rate to the patients but also provides high-resolution images. Furthermore, the 110 min. physical half-life allows for high-yield radiosynthesis, transport from the production site to the imaging site, and imaging protocols that could span hours, which permits dynamic studies and assessing metabolic processes that may be fairly slow. Recently, synthesis of fluorinated tracers from prosthetic group precursors, which allows easier radiolabeling of biomolecules, has given a boost to the development of numerous fluorinated tracers. Given the wide availability of fluorine 18, such tracers may well develop into important routine tracers. This article is a review of the literature concerning fluorinated analogs of nucleosides and fluorinated radiotracers of gene expression recently developed and under investigation.

Keywords : positron emission tomography, gene expression, fluorinated analogs of nucleosides
Pictures
Figure 1 Formules chimiques : A) 2-[18F]Fluoro-2-désoxy-D-glucose (FDG) ; B) 3'-désoxy-3'-[18F]-fluorothymidine (FLT).
Figure 2 Métabolismes simplifiés : A) de la fluorothymidine (FLT) et B) du fluorodésoxyglucose (FDG) dans les cellules tumorales : l'enzyme clé pour la FLT est la thymidine kinase 1 (TK1) et, pour le FDG, l'hexokinase. Les deux traceurs ont un mécanisme d'accumulation intratumorale comparable et, après phosphorylation, ne peuvent plus ressortir de la cellule, de même qu'ils ne sont plus des substrats pour les enzymes d'aval.TdR : thymidine ; Glu : glucose ; Fru : fructose.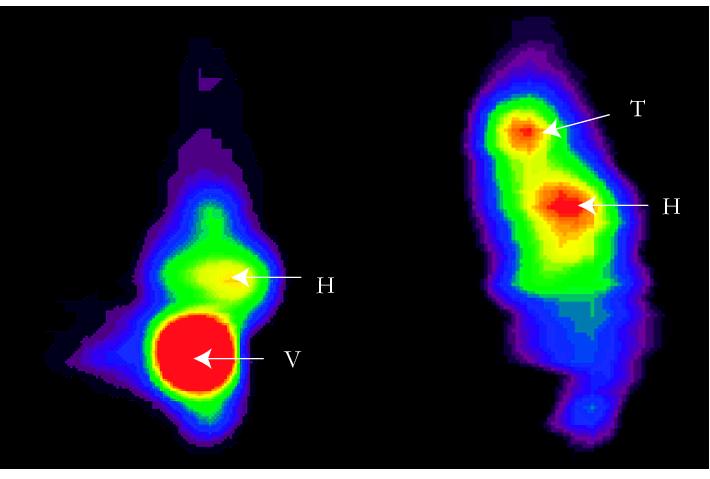 Figure 3 Coupes coronales de TEP avec le 18F-FHPG. À gauche : souris témoin avec une activité vésicale (V) très importante (élimination du traceur) et une fixation hépatique (H) moins intense. À droite : souris porteuse d'une tumeur (gliome humain U87) transfectée par le gène de la thymidine kinase du virus herpès simplex (HSVtk+) avec une fixation tumorale (T) et hépatique (il existait également une élimination urinaire mais la vessie n'est pas dans le plan de la coupe).
Figure 4 Concept de gène rapporteur appliqué à l'imagerie TEP : l'accumulation du traceur (18F-FHBG sous sa forme phosphorylée) dépend de l'activité du gène rapporteur (gène HSVtk), elle-même induite par le promoteur et donc reflet indirect de l'activité du gène endogène (ici gène de l'albumine).
Figure 5 Autre approche de gène rapporteur appliqué à l'imagerie TEP avec un vecteur bicistronique, comprenant deux gènes séparés par une séquence IRES (internal ribosomal entry site) et commandés par un même promoteur (cytomégalovirus ou CMV). Le système D2R permet de visualiser les tissus possédant le récepteur D2 à l'aide de la 3-(2-(18F)fluoroéthyl)spipérone (18F-FESP). Le système HSV1-sr39tk métabolise les substrats tels que le GCV. Chez la souris, l'expression du gène HSV1-sr39tk, mesurée à l'aide de la TEP au 18F-PCV, était corrélée à l'expression du gène D2R, mesurée par la captation de la 18F-FESP [80].