Prognostic significance of the hair follicle stem cell marker nestin in patients with malignant melanoma
European Journal of Dermatology. Volume 20, Number 3, 283-8, May-June 2010, Investigative report

DOI : 10.1684/ejd.2010.0909
Summary

Author(s) : Kenichi Tanabe, Yasuyuki Amoh, Maho Kanoh, Hiroshi Takasu, Naohiko Sakai, Yuichi Sato, Kensei Katsuoka , Department of Dermatology, Kitasato University School of Medicine, 1-15-1 Kitasato, Sagamihara, Kanagawa 228-8555, Japan, Department of Plastic Surgery, Kitasato University School of Medicine, Department of Molecular Diagnostics, Kitasato University School of Allied Health Sciences, Sagamihara, Kanagawa, Japan.

Summary : Nestin is an intermediate filament protein, and serves as a hair follicle stem cell and neural stem cell marker. Recent studies have suggested that nestin expression is also important for tumorigenesis. Previous reports from our laboratory have revealed that nestin is a marker of HMB-45-negative melanoma cells in dermal invasive lesions of nodular malignant melanoma. The present study examines nestin expression in malignant melanoma and investigates the relationship between nestin expression and prognosis in patients. We immunohistochemically stained 78 formalin-fixed and paraffin-embedded malignant melanomas for nestin, HMB-45 and S100 reactivity. We found that nestin, HMB-45 and S100 protein were detected in 56.5%, 88.4% and 100% of malignant melanomas, respectively. The 5-year survival rate of stage I and II nestin-positive cases was significantly decreased compared to the nestin-negative cases (p &lt\; 0.05). In addition, the 5-year survival rate exceeded 80% in nestin-negative malignant melanomas at all stages of tumor development. We conclude that nestin expression may be a predictor of poor prognosis in patients with malignant melanoma.

Keywords : malignant melanoma, hair follicle stem cells, nestin, HMB-45, prognosis
Pictures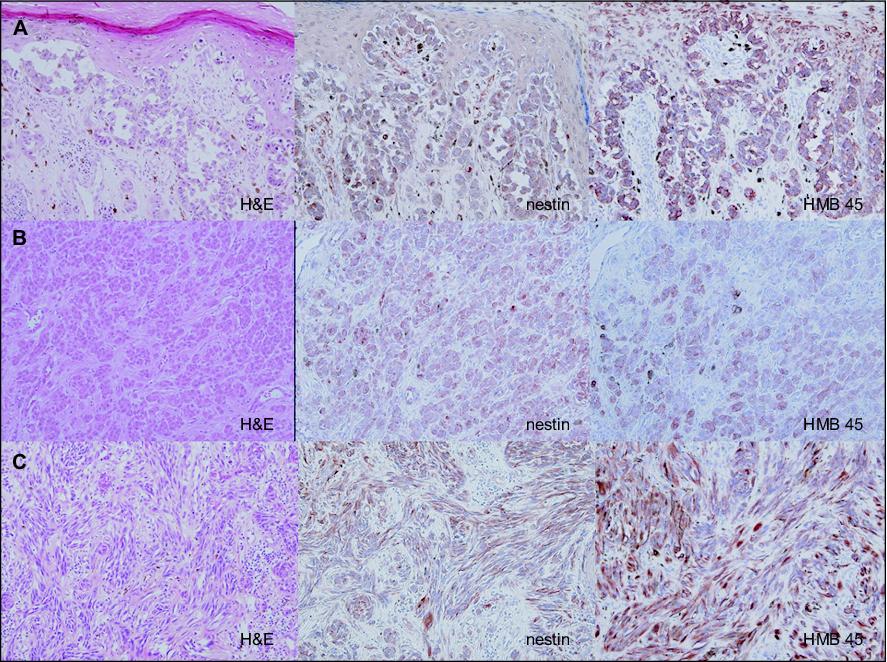 Figure 1 Based on immunohistochemical staining using anti-nestin and anti-HMB-45 antibodies, malignant melanoma tissues were evaluated and scored as negative (< 5% of positive cells) or positive (> 5% of positive cells). Melanoma cells in the junctional area (A), melanoma cells in the dermis (B) and melanoma cells in the deep dermis (C) are presented. Melanoma cells in the junctional area, dermis, and deep dermis in these samples are both nestin- and HMB-45-positive.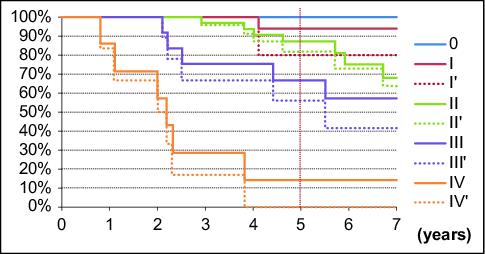 Figure 2 Relationship between nestin expression and survival rate in malignant melanoma. Nestin-positive patients (hashed lines) are compared to nestin-negative patients (solid lines) for each tumor stage.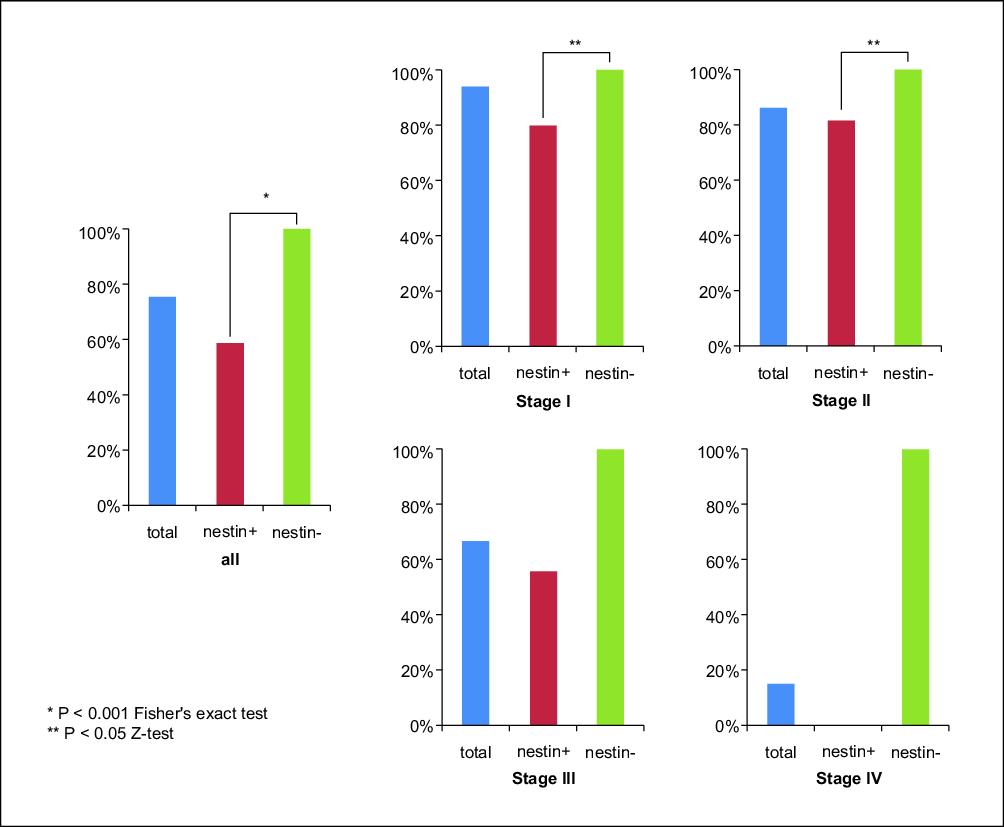 Figure 3 Five-year survival rate of nestin-positive and -negative patients for each tumor stage.