World cotton market: Trends and outlook
Cahiers Agricultures. Volume 15, Number 1, 9-16, Janvier-Février 2006 - Le coton, des futurs à construire, Synthèse
Résumé
Summary

Author(s) : Gérald Estur , Comité consultatif international du coton (CCIC)/International Cotton Advisory Committee (ICAC), 1629 K Street NW, Suite 702, Washington DC, 20006 États-Unis.

Summary : The world cotton market is best characterised by the volatility of prices with a downward trend in the long run. In spite of the distortions caused by subsidies, cotton supply and demand are price-responsive. Cotton reached historic highs during the marketing year 2004-2005, with unprecedented increases in world production and cotton mill use. The average world yield outperformed its previous record, and production jumped by 27% to surpass 26 million tons. The extremely favourable climatic conditions alone cannot explain such an increase in yield. The expanding use of new technologies, in particular biotechnologies, improves productivity and reduces production costs, sustaining supply. Subsidies maintain production in several countries where average costs are above market prices. The expansion of new cotton areas also contributes to the increase in world production. Because of its vital importance for the economies of many developing countries, cotton is one of the major issues of the negotiations on agriculture at the World Trade Organisation (WTO). Cotton end-use consumption is affected by economic growth and by relative fiber prices. Cotton prices fell in 2004, becoming competitive with those of polyester fiber, boosting mill consumption to 23.5 million tons during the 2004-2005 marketing year, up 10%. Cotton consumption benefits from the elimination of quotas on textiles and apparel trade among WTO members since January 1, 2005, which exacerbates the downward pressure on retail prices. Mill use of cotton is inexorably shifting from industrialised countries to countries in Asia. China, the top producer, top processor and top importer of raw cotton, has been the driving force of the world textile industry since 1998. Net trade with China is the major factor explaining year-to-year changes in cotton prices.

Keywords : processing, marketing, vegetal productions
Pictures
Figure 1 Production mondiale.Figure 1. World production in million tons.Source : ICAC (International Cotton Advisory Committee).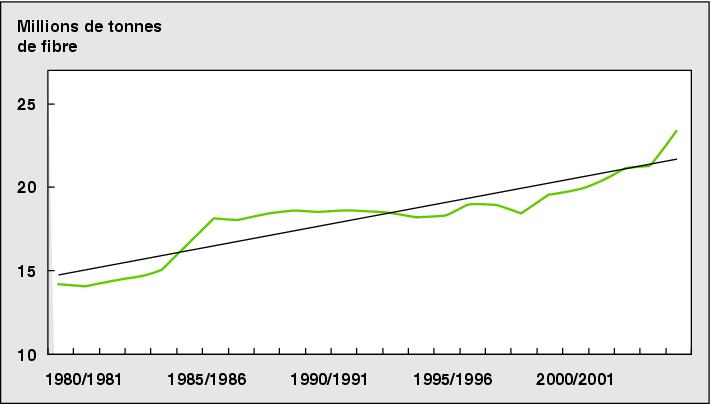 Figure 2 Consommation mondiale.Figure 2. World consumption in million tons.Source : ICAC (International Cotton Advisory Committee).
Figure 3 Prix internationaux en $ cents par livre.Figure 3. International prices in U.S. cents per pound.Source : Cotton Outlook.