Disruptive anomalies in a newborn with focal dermal hypoplasia (Goltz syndrome)
European Journal of Dermatology. Volume 7, Number 1, 15-8, January - February 1997, Gènes et peau
Summary

Author(s) : M. Ramsing, T. KN Ngo, W. Holzgreve, A. Rackowitz, W. Küster, H. Rehder, Philipps-Universität Marburg, Bahnhofstraße 7, D-35033 Marburg, Germany..

Summary : Goltz syndrome (FDH) is an X-linked dominant disease with in utero lethality in males, focal dermal hypoplasia, asymmetric limb defects and a variety of additional anomalies. We report on a newborn female with the characteristic features of Goltz syndrome, but in addition, a large thoraco-gastroschisis and limb defects of a clearly disruptive nature. We suggest that the heterogeneous phenotypic presentation in Goltz syndrome could be explained by focal, genetically determined, disruptive events at different stages of development. With respect to similarities to the X-linked MIDAS and Aicardi syndromes, the occurrence of Goltz syndrome within a contiguous gene syndrome is discussed.

Keywords : atypical apoptosis, diaphragmatic defect, disruption, focal dermal hypoplasia, Goltz syndrome, limb defects, thoraco-gastroschisis.
Pictures
---

Figure 1. Growth retarded female, 38th week of gestation, with lesions of skin and limbs, deep set eyes (microphthalmia), low set ears, abundant skin of the neck and a large defect of the ventral wall with a cleft sternal bone. Skin and limb involvement is more distinct on the left side.

---
---

Figure 2. Histological skin section from the affected newborn showing a transition zone (arrow) between almost normal (right) and affected skin (left). The affected skin displays epidermal atrophy, absence of epidermal appendages and disorganisation and thinning of the corium, ectopic fat lobules within the corium and widespread inflammatory cells.

---
---

Figure 3. In some areas dermal fat tissue touched the atrophic epidermis ­ and after prolapse formed pseudopapillomatous structures at the skin surface (compare with Fig. 4).

---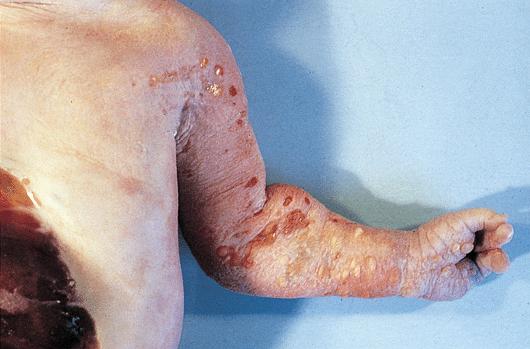 ---

Figure 4. Left upper limb with the characteristic, circumscribed, depressed or pseudopapillomatous, yellowish and erythematous skin lesions of FDH and split hand.

---
---

Figure 5. Left lower limb with disruption distal to a ring constriction, missing fore-foot and 4 toe buds.

---
---

Figure 6. X-ray of lower limbs with fibular bone absent and only one digital ray of the left leg, defect of the 4th digital ray and complete cutaneous syndactyly between the 1st and 2nd toe of the right foot.

---