Clinical evolution of alopecia areata with a male androgenetic alopecia pattern to sisaipho
European Journal of Dermatology. Volume 10, Number 2, 133-4, March 2000, Cas cliniques
Summary

Author(s) : F. Camacho, M.-J. Garcia-Hernandez, Virgen Macarena Universitary Hospital, Avda. Dr. Fedriani s/n., Policlínico, 41009 Sevilla, Spain. camachodp@meditex.es.

Summary : We report the case of a 16-year-old boy who developed an advanced alopecia areata (AA) type male androgenetic alopecia (MAGA). In 6 months he lost his frontal hair line and showed a sisaipho pattern of alopecia. It probably represents a rare evolution of AA in a wave-like form.

Keywords : alopecia areata, androgenetic alopecia, trichology.
Pictures
---

Figure 1a, b. 16 year-old-boy with alopecia areata having a male androgenetic alopecia pattern with a Hamilton IV degree.

---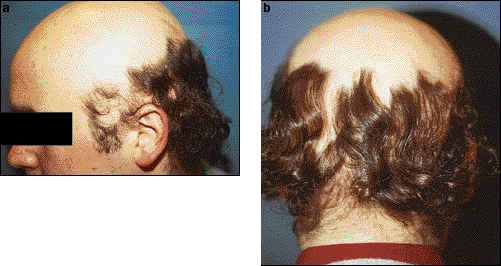 ---

Figure 2a, b. The same patient six months later with alopecia areata with a male androgenetic alopecia Hamilton VIII degree and a sisaipho pattern. He had the appearance of an old person.

---