Multiple subungual hemorrhages as a manifestation of Sweet's syndrome
European Journal of Dermatology. Volume 7, Number 2, 121-2, March 1997, Cas cliniques
Summary

Author(s) : H. Bochaton, C. Paul, L. Dubertret, Department of Dermatology, Hôpital Saint-Louis, 1, avenue Claude-Vellefaux 75010 Paris, France..

Summary : Multiple subungual splinter hemorrhages (MSSH) have been described during active vascular diseases. It has been associated with the occurrence of thrombotic events. We present a patient with Sweet syndrome who developed multiple subungual splinter haemorrhages. This is the first report of the simultaneous occurrence of Sweet syndrome and MSSH.

Keywords : Sweet's syndrome, splinter hemorrhages.
Pictures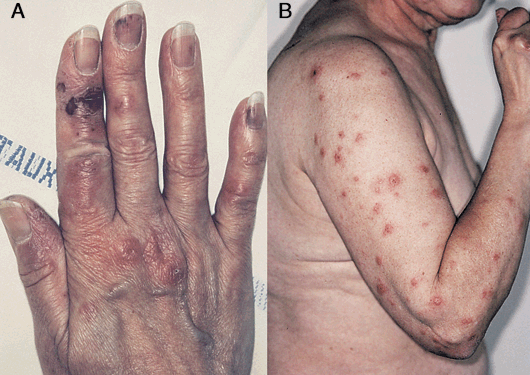 ---

Figure 1. Erythematous papules and late bullous and hemorragic lesions of the dorsal hand (A) and of the right arm (B).

---
---

Figure 2. Subungual splinter hemorrages.

---