The use of skin substrates deficient in basement membrane molecules for the diagnosis of subepidermal autoimmune bullous disease
European Journal of Dermatology. Volume 8, Number 2, 83-5, March 1998, Revues
Summary

Author(s) : Robert M. VODEGEL, Mária KISS, Marcelus CJM DE JONG, Hendri H. PAS, Anita ALTMAYER, Katalin MOLNAR, Sándor HUSZ, Jan B. VAN DER MEER, Marcel F. JONKMAN, Department of Dermatology, University Hospital, Hanzeplein 1, P.O. Box 30.001, NL-9700 RB, Groningen, the Netherlands.

Summary : A case is presented of subepidermal, autoimmune bullous disease in which the initial examinations suggested the combination of epidermolysis bullosa acquisita and bullous pemphigoid. The diagnosis of epidermolysis bullosa acquisita was made by indirect immunofluorescence microscopy: the patient's serum bound to normal skin substrate but not to type VII collagen-deficient skin substrate derived from a patient with mutilating dystrophic epidermolysis bullosa. The use of skin substrates deficient in basement membrane molecules also excluded the presence of concomitant, circulating bullous pemphigoid autoantibodies in our patient. The diagnosis of epidermolysis bullosa acquisita was confirmed by split mapping, fluorescence overlay antigen mapping and Western blot.

Keywords : autoimmune bullous disease, basement membrane, bullous pemphigoid, epidermolysis bullosa acquisita, type VII collagen, bullous disorders, immunofluorescence microscopy.
Pictures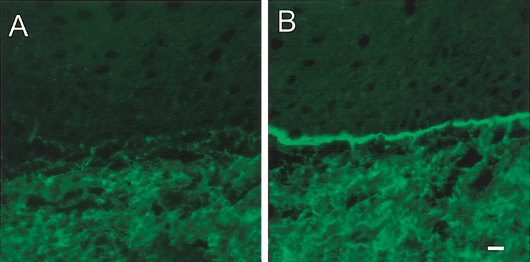 ---

Figure 1. Indirect immunofluorescence microscopy for IgG binding is negative using the patient's serum on type VII collagen-deficient skin substrate from a patient with severe, dystrophic epidermolysis bullosa (A), whereas it is positive when a bullous pemphigoid serum is used (B). Bar is 10 µm.

---
---

Figure 2. (A) Antigen mapping of lesional skin from the patient reveals binding of monoclonal antibody GB3 to laminin 5 (red) in the roof of the blister and mouse anti-human IgG to the in vivo bound patient's IgG in the floor (green) and to some extent in the roof (green-yellow) of the blister. Note that red laminin 5 is partly located above the IgG. Thus, split level and IgG deposition is located below laminin 5, below the lamina lucida/densa, which is compatible with the diagnosis of EBA. (B) Fluorescence overlay antigen mapping (FOAM) of the patient's skin using mouse-IgM anti-ANA tagged in red and green fluorescence to stain the nuclei as a geometric reference marker (yellow overlap). The topographic reference markers, mouse anti-human IgG to the patient's in vivo bound IgG in green and polyclonal rabbit antibody to human type VII collagen in red show yellow overlap in the vertical plane (no red type VII collagen staining beneath the IgG), fitting the diagnosis of EBA. Note that the epidermal basement membrane of the patient is duplicated in both figures. Bar is 10 µm.

---