ARTICLE
A 68-year old man, with a history of non insulin-dependent diabetes and hypertension (treated with amlodipine), presented to our Department reporting that a week before, preceded by a painful and burning sensation, multiple lesions had developed on his legs. The lesions, extremely pruritic, had been increasing in number. A few days later, the patient, an antique collector, found an insect, similar to a little ant, moving quickly between the bedsheets.
On examination, numerous erythematous-hemorrhagic papules (1 cm in diameter) with a linear distribution were observed on both legs (Fig. 1). The patient was also febrile (37.5° C).
Laboratory tests showed only a slight increasing of fibrinogen 454 (normal values 0-400 mg/dl) and glycemia 141 (n.v. < 110 mg/dl). Antinuclear antibodies, complement test, circulating immunocomplexes and HCV, HBV and HIV serology were negative.
Discussion
Scleroderma domesticum, is a 3-4 mm long arthropod, belonging to the family Bethyloidea, order Hymenoptera, class Insecta [1] (Fig. 2). It is a cosmopolitan insect living mostly in mild-climate countries. It is a parasite of the larvae of Lepidoptera and Coleoptera living in the galleries they dig in old wooden furniture and colonizing easy chairs, wollen mattresses and pillows [2]. It may sting humans indifferently day and night, but mostly in spring and summer. Cases have been reported in Europe (Greece, France, Spain, Italy), Africa and Japan [3].
Besides the acute pain, the bite causes small erythematous-purpuric papules or urticarioid patches associated with an intense itchy sensation [4]. Asthenia and fever can be observed. The lesions usually clear spontaneously in 7-10 days without sequelae.
In our patient, fever abated in three days without therapy and the lesions cleared up in 7 days after pest control.
References
1. Capirchio F. A present-day predator: Scleroderma domesticum Oliv. Nuovi Ann Ig Microbiol 1969; 20: 357-62.
2. Pampiglione S, Trentini M. Lesioni cutanee da punture di Scleroderma domesticum. Annali Italiani di Dermatologia Clinica e Sperimentale 1996; 50: 107-10.
3. Trentini M, Marini M, Pampiglione S. Occasionali punture all'uomo di Scleroderma domesticum. Biologia Oggi 1992; 4: 415-20.
4. Burns DA. Diseases caused by Arthropods and other Noxious Animals. In: Champion RH, Burton JL, Ebling FJG, eds. Textbook of Dermatology. 6th ed. London: Blackwell Scientific Publications 1998; 2: 1435-8.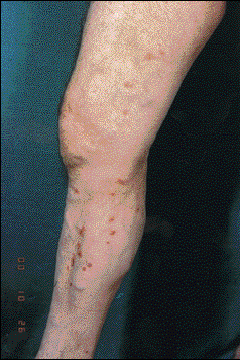 ---

Figure 1. Hemorrhagic papules with linear distribution.

---
---

Figure 2. Scleroderma domesticum.

---
Article accepted on 19/11/01