Better communication between carers: a major stake in safety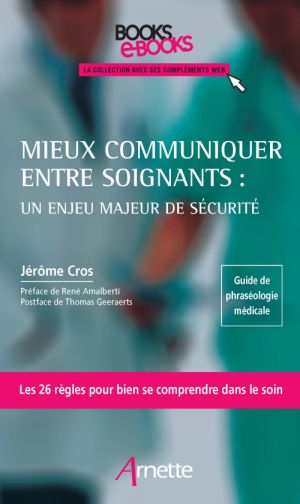 2018
Collection : Books-e-Books
Publishor : ARNETTE
112 pages
Published in : French
Speciality : Anesthesiology - reanimation Emergency Operating conditions / Stress management Methodological tools Communication - Relational Techniques - Hypnosis
Format : 12 x 20 cm
Medical phraseology guide
This book assembles a set of simple and absolutely necessary communication rules. Numerous medical errors are made when they are not applied whereas with their use and knowledge of the specific phraseology to be employed, many lives could be saved.
The author gives examples of "good" and "bad" sentences, presents several clinical cases and examples that highlight the importance of his message and offers numerous tips to help all caregivers concerned about the communication aspect of their profession.
This guide is intended for all professionals working in an operating room but may be of interest to all caregivers.
The "Books-e-books" collection offers dual media (paper and digital) books on socio-professional and technical subjects.
Ces ouvrages devraient également vous intéresser