Stroke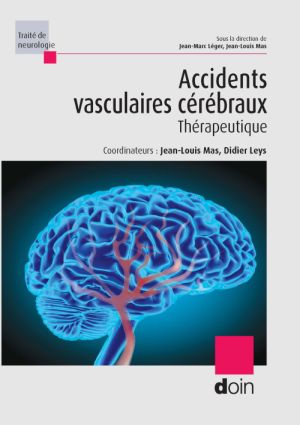 Treatment
2018
Collection : Traité de neurologie
Publishor : DOIN
672 pages
Published in : French
Speciality : Cardiology Vascular medicine Neurosurgery Neurology - Neuropsychology - Epilepsy
Format : 17 x 24 cm
• With 140,000 new cases each year in France (one every 4 minutes), strokes are the leading cause of death in women, the third in men, the leading cause of acquired physical disability in adults, and the 2nd cause of dementia.

• Strokes are a heterogeneous group of diseases requiring various treatments. These need to be adapted to the different types of stroke, and, for each type of stroke, to many different causes. There may be several treatment options for each of these causes.
Major therapeutic advances have been made in recent years, whether in the organization of care, acute treatment or prevention.
• Focusing on the therapeutic point of view, this book reviews the most recent advances in the management of these diseases which are a real public health issue.
Short summary
Part 1. Organization of stroke management
Part 2. Acute phase
Part 3. Stroke prevention
Part 4. After the stroke
Ces ouvrages devraient également vous intéresser